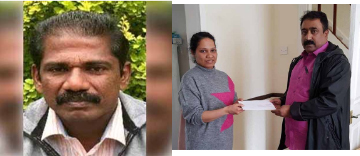 40 years old Rajeev Thankappan from Thiruvananthapuram died unexpectedly at Eastham in London on 2 nd March 2019 leaving his wife
and two young children. The family came to U.K just ten months ago dreaming to build a new life for the young children lured by the bogus emigration agents spending exorbitant amounts. The family had disposed off their house back in Kerala to raise fund to give these agents but Late Rajeev's wife and children had to return to their home country by realising the fact that they were cheated by the agents. However, Rajeev had left with no other alternative but to stay back in London to earn some money for the bread and butter to his family as he was laid off his contract business back in Kerala before travelling to U.K. The charity foundation received an application for financial support and the 'Rajeev Appeal' raised a total amount of £8894.75. Out of which an amount of £ 8279.75 received from virginmoneygiving with gift aid whereas £ 6981.00 without gift aid. An amount of £ 615.00 received directly into the bank a/c and 3.5% of virginmoney's commission £ 245.00 deducted from the total amount. An amount of £ 51.35 taken from the general fund to make the total hand over amount to a round figure of £ 8,700.00. The raised fund will arrange to hand over the family in Kerala mostly in favour of the two young children to arrange an FDR to get them matured at them reaching the age of 18.
In the meantime, recently concluded 'Chackochan Appeal' remaining amount of £ 11,200.00 was handed over to Late Chackochan's wife Deepa at Bridlington near Hull on 10 th March by charity's Secretary George Edathua. A total amount of £ 18,595.25 including the gift aid received from virginmoneygiving fundraising platform and an amount of £ 1880.00 received directly into charity's bank a/c. Virginmoney's 3.5% of commission amount to the tune of £ 527.00 was deducted and £ 12.75 added from general fund. An amount of £ 8760.00 was already given to the family on13/02/2019 immediately after the demise of Chackochan.
For news/details in malayalam, please visit www.britishmalayali.co.uk
Comments
comments