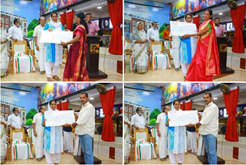 The total amount of £ 7300.00 raised from the above appeal given £ 1460.00 each  to all the five beneficiaries in a brief meeting organised at Gandhibhavan.  The Kerala State Womens Commission member Dr. Shahida Kamal distributed the fund wherein Gandhibhavan secretary Dr.Punalur Somarajan welcomed the guests and many prominent personalities such as cine actor T.P Madhavan was present.
A total amount of £ 7511.99 was raised both through virginmoneylink and bank a/c out of which £ 7216.00 received through virginmoneylink and £ 295.00 directly received into charitiy's bank a/c.  An amount of £ 211.00 deducted towards virginmoney's commission and rest £ 7300.00 given to the five families. Charity had issued  the seasonal appeal of 'Easter-Vishu Appeal 2019' featuring the cases of 5 underprivileged families in Kerala, who are severely affected with medical/socio/financial conditions.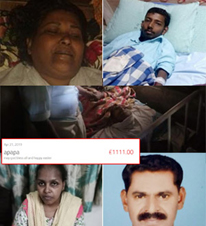 The first among the beneficiaries was of 48 years old  Ponnamma from Thottakkadu, Kottayam. Ponnama was already suffering from a rare disease of anaemia and also suffered major burn injuries due to the fall as a result of her medical condition. The doctor has prescribed surgery and she is bedridden due to the ongoing diseases. Ponnama is being looked after by her elderly parents with no means of regular income for the family as her aged dad is the  only  bread winner in the family.
Abhilash from Karunagappally in Kollam district has also received £ 1460.00, who has been paralysed right from the age of five years old and is completely dependant on his parents for his day to day life.
Another beneficiary, Bindu Biju from Vannapparum, Thodupuzha suffer from lung cancer which makes the lives of the  family including two young children very difficult.
The young Subin Babu from Vazhoor, Kottayam  also received the fund as he was diagnosed with kidney diseases when he was doing his +2 level at school.
Rajan from Pathanapuram in Kollam was also benefitted from the appeal with £ 1460.00. He suffer from multiple diseases but the recent surgery for the heart diseases has made him very weak with his other conditions as such kidney stone, diabetes etc.
Please visit www.britishmalayali.co.uk/news/charity for further details/news in malayalam
Comments
comments