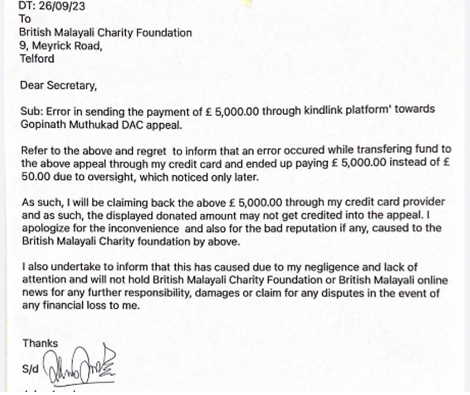 The appeal gathered momentum by people donating to a stand alone  appeal initiated by British Malayali Charity Foundation. Unlike other appeals Gopinath's case has been viewed differently due to his dedication and commitment to differently abled section in the society especially children. Mr. Muthukad is a well known household name amongst Malayali diaspora across the world due to his outstanding simplicity and humanitarian approach. Instead of being a celebrity and lead a stylish life, he chose to earmark his rest of life for the underprivileged people.  He established the Magic Academy & Different Arts center  to facilitate for the upliftment of differently abled children.

The appeal has raised around £ 2.5 Ks so far and expected to get boosted during his proposed visit to UK. An amount of £ 5,000.00 was wrongly shown onto to the kind link platform due to the error by one of the donors, who, instead of donating £ 50.00, clicked onto the other options ending up paying £ 5,000.00 . He has applied to his credit company for refund and a letter into this effect has received from the donor to the British Malayali Charity Foundation. As such, the total fund shows now will display later by reducing £5,000.00 and we deeply regret for the
Inconvenience caused to the charity supporters.
The British Malayali Charity Foundation requested its donors to double check the amount and other details before final confirmation in order to avoid these kind of errors occurred in the future.

Please donate by clicking on the following link and kindly ensure to give consent to reclaim 25% gift aid from HMRC if eligible as every £ 1.00 you donate will get enhanced to another £ 0.25 by reclaiming the gift aid.
ttps://www.kindlink.com/fundraising/British-Malayali-Charity-Foundation/gopinathmuthukad
Name : British Malayali Charity Foundation
Account number: 72314320
Sort Code: 40 47 08
Reference : Gopinath Muthukad DAC Appeal
IBAN Number: GB70MIDL40470872314320
Comments
comments