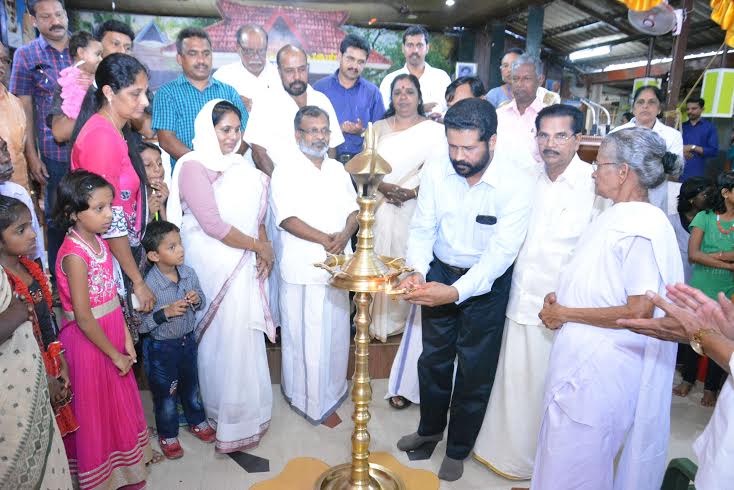 Gandhibhavan Secretary Dr. Punalur Somarajan was in full praise of the British Malayali/Marunadan Malayalis' tiredless fight against injustice and discrimination prevailing in the current socio-economic-political fields of society. He also appreciated for the charitable works and also for their ongoing efforts in the upliftment of poor and downtrodden to the mainstream of day today life. He was speaking at a function organized at Gandhibhavan to distribute the amount of £ 13500/- to 10 victims/families collected through Onam appeal by the charity. The emotional scenes were occurred during the event when Shri Shajan Skariah narrated to the audience about his personal experience in facing very difficult situations while taking stand towards the truth and honesty.
The Social Welfare Board Commission member Smt. Shahida Kamal was in tears as she came to know about British Malayali's determination and commitment of financial assistance in repatriation purposes unlike her situation she faced during the untimely demise of her late husband in the Middle East. Smt. Shahida is a regular visitor of Gandhibhavan with her all the support despite of her busy schedule. Olympyan Bobby Aloysius also attended the ceremony and she spent her valuable time with inmates and expressed her gratitude and admiration to Dr. Somaraj for his dedication to the noble of cause of running such a heavenly abode. An 82 year old known as 'Mother Teresa of Kollam' was entrusted with the main responsibility of distributing the funds and her speech also was accepted by the audience with wide applause. Cashew Board Labour Welfare CEO Dr. Anilkumar and British Malayali team member Tomichen Kozhuvanal were also present in the function.
A blood cancer patient and 8th std. student Anagha, from Vadakkekara, Aralam Panchayat, Kannur District. Muhammed Hadi (12) with a rare disease of 'sojiya' from Kodencherry, Kozhikodu district, a 5th year old boy with brain tumor, Tom from Thidanadu, Kottayam district, Cancer patient, Vijayamma from Cherukol, Mavelikkara, 21 year old brain-disease patient Albin from Pervaur, Kannur district, a kidney patient 52 year old Sebastian V.J from Kothanalloor, Kottayam district, Aravind .U.R (35) suffering with both damaged kidneys from Kanchiyar, Idukki District, Jose John(45) from Karakurinji Panchayat, Palakkadu District with 'Muscular distrofy' , a couple with heart problems, Beena & Sunny from Cherthala, Alapuzha District and an ill-fated father of two sons with chronic diseases, Basil Galio from Kollam were all received an equal amount of £ 1350/- each during the function..
Comments
comments