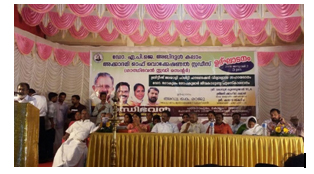 Unlike the usual way of fundraising through appeals, It was an altogether different way  for the charity to support nursing students in Kerala, India, who are bright enough in their academical records but not sound enough financially to continue their ongoing studies. Charity reached another milestone by successfully organising a public event at Vasudha Auditorium, Puthoor, Kollam, Kerala on Tuesday the 2nd of January 2018 and handed over cheques to 101 nursing students for £ 350.00 each. An additional amount of £ 500.00 was given to an MBBS student as well totalling to 102 recipients. The function was organised alongwith 'Gandhibhavan's training centre inauguration at Puthoorin order to avoid the organising expenses for the charity. The project was named after 'BMCF Scholarship for nursing students' and the amount of £ 42305.00 raised through the skydiving charity event undertaken by 33 selfless and dedicated malayalees across U.K. An amount of £ 3475.00 taken from general fund thereby the total project amountof £ 45,780.00. A total amount of £ 38850.00 handed over to 101 nursing student & 1 MBBS students and£ 3000.00 given to Cancer Research U.K. £ 6930.00 paid to skydiving agency as their fee (£ 210.00 each).The skydiving event was conducted at Langar, Nottingham, England on 23rd& 24th September 2017. It was a project successfully undertaken by the active participation of skydivers, UK malayalees and all the trustees. All the trustees including the office bearers had to work round the clock to verify the applications, shortlisting the applicants and finalising the names. At one stage, the charity had to remove a finalised applicant due to the reliable information and contrary to the facts from the application.

Kerala Govt. minister for Forest Adv. Raju, MLA KovoorKunjumon, Womens' Commission member Shahida Kamal and many prominent personalities from Social-political background attended the  ceremony.  There was over 250 members in the audience, who came all the way from different parts of the state to collect the cheque. Charity's dream project  completed through the fund raised by  23 enthusiastic young people taking up the challenge towards the noble cause on 23rd Sept 2017 and another ten good Samaritans from different walks of life on Sunday 24th Sept. 2017.
Please visit www.britishmalayali.co.uk/home/charity  for further details/news in malayalam.
Comments
comments