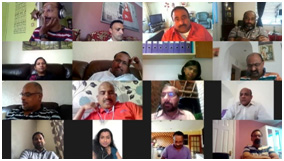 Another Annual General Meeting of the British Malayali Charity Foundation including the   trustees, advisory board and the members were conducted through videoconference on Saturday 6th June 2020 at 3 PM. The meeting commenced by observing a minute silence in respect of the people died across the world due to the coronavirus pandemic. Thereafter the welcome speech/presidential address of the Chairman Shaji Lukose from Belfast followed by the reading of working report by Secretary George Mathew Edathua joined from Leicester and accounts by Treasurer Simon Jacob from Southampton.
Chairman thanked and congratulated the team members of the British Malayali Charity Foundation who worked in the frontline to combat the virus. He also narrated the commendable work done by the foundation right from the Ashby Appeal in September 2012 to the ongoing Covid Support Appeal by distributing an amount of about £ 760,000.00.The founding chairman of the foundation, Shajan Skariah joined the conference via video link from Thiruvanathapuram in India and expressed his gratitude for the efficient working of the trust and thanked the trustees for the same.  Exchairmen Francis Antony(Telford) and Tomichen Kozhuvanal, Woking (Augustine Mundupalackal)  gave their speech alongwith vice chair Jagdees Nair from Bath. Advisory Committee Convenor Sam Thiruvathil(Derby) was full of praise for the unity and integration of the charity team in implementing the projects and policies from time to time.
Charity members Joshy Mathew (New Castle) and Noel Philip (Swindon) praised the charity foundation for assisting the poor and needy from the society across the world. While Jt. Treasurer and a solicitor by profession Afsal Ali (Bromley) suggested to  set up an advice line to extend our all possible assistance for settling   the new comers of the community in the U.K, trustees Resmi Prakash(Chelmsford), Roy Stephen BEM(Swindon)& Jimmy George(London) also put up their suggestions about the working of the foundation.Ex Secretaries Sabu Chundakattil (Manchester) and  Cimy George( Croydon) also appeared in the conference from their respective stations. Founding Secretary and the advisory committee member Ajimon Michael Edakkara(Gloucester) suggested about the importance to include new generation into the charity foundations' activities. Also the ex treasurer Shinu Mathew (Bolton), Manchester Malayali Association President K.D Shajimon,  (Manchester), other advisory committee members Shaji Thomas Karinattu (Brexhill), Siby Meprathu (Southampton) were present on the conference.  The Jt. Secretary Prasanna Shine ( Bath) concluded the meeting with her vote of thanks at 5.15 PM, which was conducted through the Zoom application and Simon Jacob, the treasurer was the moderator for the same.
Please visit www.britishmalayali.co.uk for the above news in Malayalam…
Comments
comments