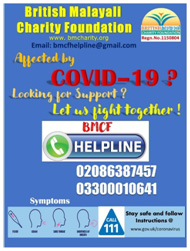 The announced AGM, which is scheduled to be held on Saturday 6th June 2020 at Norwich is going to be  conducted through video conference via zoom application. This decision has been taken by the trustees in view of the ongoing coronavirus pandemic and also to respect government restrictions to combat the virus. The meeting, which will begin at 3 pm, will discuss only about the working of the foundation and future plans, if any. The announced election for selecting trustees and office bearers will not be conducted as majority of trustees preferred the current trustees to continue and AGM may be called to meet in person to elect the trustees once the situation cleared. If any BMCF members wishes to join the meeting may please contact at [email protected] to register themselves before the AGM. The trustees has made arrangements for the same by using zoom application.
In the meantime, the Covid Support Appeal has collected an amount of £ 4,329.75 so far out of which £ 600.00 came into charity's bank account. Also, an additional amount of £ 647.50 has collected by advisory committee member Shinu Mathew to commemorate her birthday. A total fund of £ 2600.00 distributed to 12 families and individuals so far using the above fund and the foundation's helpline still receive the distress calls looking for support. The recent support extended include the four students from Manchester already given £ 60.00 each for training fees. An additional amount of £ 190.00 also given to these students. Another family from Newcastle also were supported with £ 250.00 along with a student from Croydon received the same amount.
Please click in to the following link if you wish to donate to Covid Support Appeal:
https://uk.virginmoneygiving.com/britishmalayali
In other news, two cheques totalling to £ 16250.00 given to the the family of Late Sinto Antony, who died due to coronavirus on 6th April 2020 at London.
While an amount of 14194.98 received in the virginmoney giving link, £ 2564.27 came directly into bank account.£ 526.00 deducted towards virginmoney commission and £ 16.75 added from general fund to make the round figure to £ 16250.00. When a cheque for £ 15000.00 issued to Elyna Sinto, Edward Sinto received £ 1250.00. These cheques were issued in order to get matured at them being reaching the age of 18. Other child and family members were facilitated with the fund received from other sources. Nimy Sinto, the wife of Late Sinto thanked the charity foundation for the Support they received.
Please visit www.britishmalayali.co.uk for the above news in Malayalam..
Comments
comments