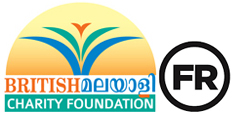 Over the last several months, multiple individuals and teams came forward to help British Malayali Charity Foundation raise money to support those who have been adversely affected by the Covid-19 pandemic in the state of Kerala.
Since that start of the Covid Warriors challenge, many supporters of the charity from all over the UK approached us to help raise money by taking up various challenges. Some of these challenges included running 50 miles, climbing a mountain, organising a free virtual cookery course with plating demonstrations, multiple food challenges were organised across the UK where families and teams from various locations prepared and sold Keralite food to raise money. Families took up 150-mile walking challenges, some organised community cricket matches, while others organised community football matches or did the Yorkshire 3 peaks.
All-in-all, this was a challenge that saw the Malayali communities of the UK come together. It saw individuals who hadn't previously taken part in challenges come forward and work with the charity, and it saw people who had previously been part of other challenges return. This challenge saw friends, families and communities work together for the betterment of their fellow man.
As a charity, we are thankful for the support we have and for the kind hearts of the community.
Comments
comments