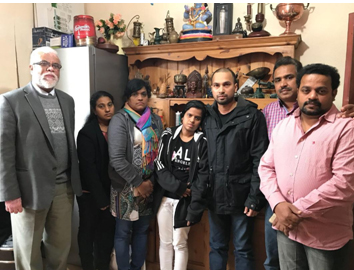 British Malayali Charity Foundation has accepted the request of Soumya & Family from Croydon, London to support them financially through appeal in the wake of tragic death of Soumya's parents in a road traffic accident at Aluwa, Ernakulam, The trustees verified the application signed by both Soumya and her husband Jorlit seeking for immediate financial help as they were already struggling due to the stringent visa procedures of home office and also were the victims of the cheating by visa agents. Charity's chairman Tomichan Kozhuvanal & Secretary Cimy George went to visit them with family to offer all the support and assistance and also to assess the situation of the case.
Charity issued an appeal on 30st October 2017  through 'British Malayali' online newspaper detailing their current circumstances and an overwhelming response received from readers by generating an amount of £ 14578.75through virginmoneygiving link and also through charity's bank a/c. When an amount of £ 10985.00 came from virginmoney, £ 2378.75 enhanced as gift aid from HMRC due to the contribution charity. £ 1215.00 deposited into bank a/c by some donors and an amount of £ 385.00 deducted by virginmoney as their commission. Trustees decided to allow a small amount of £ 6.25to make it as a round total figure of £ 14200.00.
The family already travelled to India to pay their homage to Soumya's departed parents and the necessary amount of £ 940.00 for the air ticket was paid by the charity to them out of the above collected amount. The remaining amount of  £ 13260.00 will be given them at Kerala as per their convenience. The Croydon Malayaleee Association donated an amount of £ 1265.00 through the charity and which was the single largest amount donated in the appeal participated by 347 donors.
Comments
comments