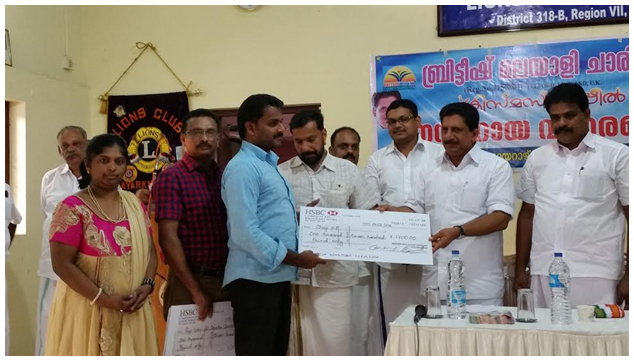 It was an another milestone in the journey of the Charity with the inauguration of 'Christmas Appeal-2015' by Hon. Chief Minister of Kerala Mr. Oommen Chandy on Sunday, 14th February 2016 held at Lions Club Hall, Ayarkkunam, Kottayam. The function which occurred at 5 PM was chaired by Ex-Minister and MLA Mr. Monse Joseph. The proceedings at the stage began with the welcome speech by the chief co-ordinator of the event and the trustee Mrs. Shinu Claire Matthews, who hails from Ayarkkunnam.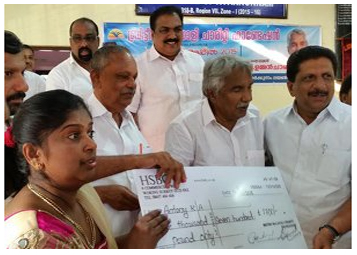 The introductory speech was given by the Chief Editor of 'Marunadan Malayali' , 'Britsh malayali' and the trustee, Mr. Shajan Scaria whereas another trustee Mr. Sam Thiruvathilil thanked all the dignitaries and the audience in his assigned responsibility of vote of thanks. Many U.K malayalees were also present to greet the event including one amongst the foremost Mr. C.A Joseph, convener of UUKMA cultural forum (samskarikavedi) and also one of the prominent artists in U.K. The overall program was organized and monitored under the leadership of charity's Chairman Francis Antony and the Secretary Sabu Chundakattil. Trustees thanked Mrs. Shinu and Chairman/Secretary for their hard work and the well planning for organising such a memorable event successfully.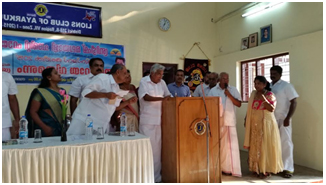 The RMO of ICH, Kottayam Dr. Jayaprakash and other important personalities such as Mr. James Kunnappally and many other leaders from several walks of life delivered their complimentary speeches in the hand over ceremony witnessed by a huge crowd. All the ten beneficiaries of 'Christmas Appeal 2015' were given an amount of £ 1700.00 each thereby a total fund of £ 17000.00 raised from the appeal.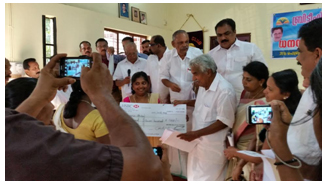 Apart from the above £ 1527.00 was given to ICH, Kottayam for the procurement of two Maximo Pulse Oximeters and an additional sum of £ 1000.00 to 'Gandhibhavan' , Kollam for the refurbishment/extension of their existing building at the function. Another £ 1000.00 was sent to Yorkshire Air ambulance in England to support their ongoing services to the local community in the wake of the recent flooding. All the above three assistances were sanctioned by the trustees from the general fund in order to ease-off the accumulated credit balance of the charity and also with a view to extend our help to the various community-based institutions/projects.
Following are the 10 recipients of the 'Christmas Appeal 2015':-
Dichu, the 11 year old boy from Ayavana, Malappuram Dist., who suffer from cerebral palsy; . kidney patient and a brilliant student of 24 years i.e Pratheesh from Mararikkulam in Alappuzha Dist.;.Jose George (49), a cancer patient from Karunapuram in Idukkki dist.;..Kidney patient Shaji P (37) from Kozhichena in Malappuram dist.; A widow and mother of 4 little children Sheena Shibu from Ayarkkunnam, Kottayam dist.; Another widow and a young mother Reji John from Vellileppally, Pala in Kottayam; 15 year old Riya Antony from Chakkampuzha, Pala with backbone deformity ; Balakrishnan from Trichur; Sudhakaran from Ranni, Pathanamthitta ; Stroke patient Sisupalan from Alappuzha.
Comments
comments