'Christmas Appeal-2015' made an astonishing response from the 'British malayali' readers by generating sufficient funds to give all ten applicants, whose' stories were featured during last two weeks. A total of £ 16648.00 were able to collect  from 320 donors including both virginmoneygiving  and direct into the charity's bank a/c after deducting the viriginmoney's commission of £ 362.00  An amount of £ 12785.00 were given by 219 people through virginmoneygiving including gift aid and £ 4225 was directly paid into bank a/c by 101 readers.  It was also decided by trustees thereafter to add another £ 352.00 from the general fund to make the total amount to be a round figure of £ 17000.00 in order to enable  all the ten beneficiaries to get an equal share of £ 1700.00 each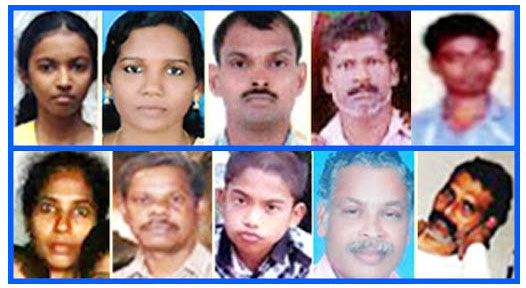 Thus the appeal became very successful with the active participation and support of 'British Malayali' readers, which was organized and monitored under the leadership of Chairman Francis Antony and Secretary Sabu Chundakattil.  Trustees thanked them for their hard work  and planning for achieving such a very positive response from the british malayali community.
All the 10 cases which was approved by the trustees for collecting funds from the public were equally in desperate need of financial assistance to fight their life threatening diseases/ to put their life back onto the normal course  which was disrupted by the unforeseen health conditions.
Dichu, the 11 year old  boy from Ayavana, Malappuram Dist., who suffer from cerebral palsy; .  kidney patient and a brilliant student of 24 years i.e Pratheesh from Mararikkulam in Alappuzha Dist.;.Jose George (49),  a cancer patient from Karunapuram in Indukkki dist.;..Kidney patient Shaji P (37) from Kozhichena in Malappuram dist.; A widow and mother of 4 little children Sheena Shibu from Ayarkkunnam, Kottayam dist.; Another widow and a young mother Reji John from Vellileppally, Pala in Kottayam; 15 year old Riya Antony from Chakkampuzha, Pala with backbone deformity ; Balakrishnan from Trichur; Sudhakaran from Ranni, Pathanamthitta ; Stroke patient Sisupalan from Alappuzha are the ten beneficiaries going to get benefitted from the above appeal.
The venue and the date/time will be announced later for the distribution of the payments.
Comments
comments