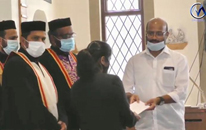 The collected fund of £ 16,260.00 handed over to the family of Late t Soni Chacko, a young dad of 42 years passed away unexpectedly at Chesterfield, Derbyshire in England on 27th July 2020 leaving his two kids of 3 & 8 years and his wife. British Malayali Charity Foundation's trustee Soni Chacko from Manchester, who attended the funeral ceremony gave the cheques on behalf of the foundation on Tuesday 11th August 2020. When an amount of £ 12,043.00 received in the virginmoneygiving link, the same enhanced to £ 14,371.00 including the gift aid of £ 2,328. An amount of £ 197.00 deducted by the virgin money giving towards their handling fee and commission charges.  The amount is reduced to £ 197.00 since most of the donors paid the charges and commission separately along with their donations. The standard charges of virgin money giving is 4.5%. Also, an amount of £ 2,080,00 received directly into charity's bank, which added to the net fund of £ 14,174.00 received through virgin money giving. The trustees decided to add £ 6.00 from charity's general fund to make the hand over amount to a round figure of £ 16,260.00.  The trustees also decided to provide the gift aid amount of £ 2,328.00 from the general fund which normally takes four to five weeks to process and receive from HMRC.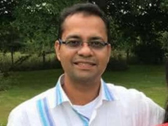 As a part of Charity foundation's social responsibility and also as per the request received from the supporters, the trust issued the fund in favour of Late Soni's two young children also each with £ 5,000.00 so that the same may be deposited in India as FDR to get them matured at the children reaching the age of 18.  This  decision was taken after the consultation   with Late Soni's wife. The rest of £ 6,260.00 paid to wife's name towards the funeral expenses.
In other news, the foundation has decided to conclude the 'Covid Support Appeal' which was issued in view to assist the affected community members who were struggling to cope with the job losses and other after effects of Covid 19 pandemic. A total fund of £ 5,876.00 given to 24 families/individuals affected. The national helpline number, set up to facilitate the callers also terminated. The remaining fund of 01.94 will go to charity's general fund.
In the meantime, and additional fund of £ 300.00 was also given to the family of Late Jose Melboyee totalling to £ 5,050.00. An amount of £ 4,750.00 was already transferred earlier.
Please visit www.britishmalayali.co.uk for read above news in Malayalam.
Comments
comments