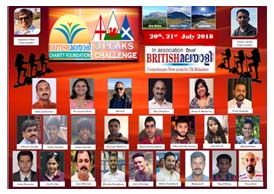 The three peak challengers will being their journey to conquer three mountains of Britain on Thursday 19th July 2018 morning from London for a long journey towards the north end of Scotland i.e. Fort Williams. They will start their challenge on Friday 20th July by climbing U.K tallest mountain of Ben Nevis in Scotland and continue their journey afterwards to Scaffel Pike in England. The challenge will get concluded by Saturday 21st by completing the Snowdonia in Wales. A team of 26 people including you children, women are preparing themselves to undertake the charity event known as 'BMCF Snowdonia Charity Event 2018'.The proceeds of the raised fund will go to unprivileged tribalcommunity in Kerala as the main beneficiary. The trust also has decided in continuing to supportfew bright and poor nursing students from the last year's BMCF Scholarship Scheme. As a token of our solidarity towards the local charities in U.K, asmall amount will be given to Llanberris Mountain Rescue team where the charity event will conclude on Saturday 21st July 2018. The trust has also announced trophies to the highest fund raisers and also to the participants who finish their task on first basis. All the participants will be receiving certificates from charity foundation. The special committee headed by Vice Chairman Jagadees Nair as General Convener and Treasurer Simon Jacob as Convener is working round the clock to monitor and organise the event.
The charity has identified a team of selfless and dedicated people, who already work amongst tribal in Kerala to co-ordinate and hand over funds to tribal community in Kerala such as famous blogger & writer 'Niraksharan' Manoj Raveendran, a social activist Mr. Kunjumuhammed from Wynadu, Mrs. Vijayalakshi and ITDP teacher from Idamalakkudi, Idukki, a socio-medical professional Dr. Divya from Thiruvananthapuram and Amboori PHC Medical Officer in charge Dr. Navajeevan. The project named 'BMCF Tribal Support Scheme 2018' aim to provide school materials to the children and warm clothes to the aged people in four regions i.e. Attappadi in Palaghat, Wynadu, Idamalakkudi&Palodu/Amboori area in Thiruvananthapuram district. The above persons have been entrusted by the charity to undertake the project once the necessary funds are raised through the charity event. They will be arranging to open necessary bank a/c to channel the financial transactions for this purpose. A project report will be submitted by them prior to the approval of funds by the charity. A committee has been formed including BMCF's Chairman, Secretary, Treasurer, Youth Convener, BMCF's rep in Kerala & advisory committee member ShajanSkariah including the above persons from.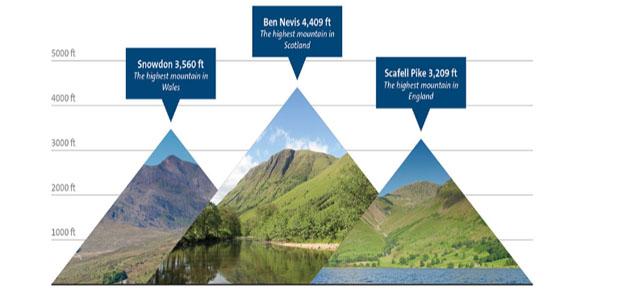 A sub-committee was formed by charity for this purpose by Vice-Chairman Mr. Jagadees Nair as General Convener & Treasurer Mr. Simon Jacob as Convener. The recently constituted advisory committee members also have been included in this sub committee for the successful implementation of the project.
The organizers can assist if anyone wants accommodation/food to stay at Snowdoniaafter the event asfamilyouting/gettogether.
While most of the trustees taking part in the event such as Vice Chairman Jagadees Nair (Bath) along with his two children, Treasurer Simon Jacob (Southampton)Jt. Secretary Prasanna Shine (Bath), Jt. Treasurer Afsal Ali (London) Executive Committee members Cimy George (Croydon) Sabu Sebastian Chundakattil, (Manchester) trustees Shinu Clare Mathews (Bolton), Roy Stephen (Swindon), a team of children including families such as Johncy and children from Shrophshire, Joby and his wife Jyothi from Dorking, Kurian his wife Sindhu & brother Jerin, his friend Nithin, Kalaraj from Peterborough, Mathew from Manchester, Tony Tom from Blackpool, Jose Cherian, Abhijit from Stoke on Trent, Reynold and Jithin from Southampton, Noel Philip, Lakshmi from Cheltnham, Noel Philip . Please click onto the following link if you want to donate to the fund raising.
For news in malayalam please visit www.britishmalayali.co.uk.
Comments
comments