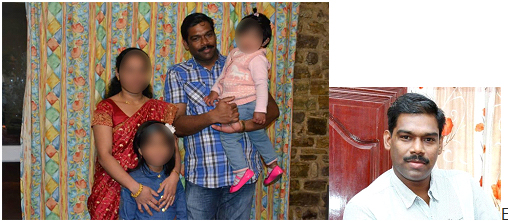 British Malayali Charity Foundation has issued an appeal to raise funds to support the family of 47 years old Chackochan V. Ayppunny from Hull in England in the event of his sad demise. Chackochan is survived by his wife Deepa and two young girls aged 10 and 6. He was suffering from Motor Neurone Disease (MND) for more than three years, which affects nerves and brain and the condition was further deteriorated since last one year with the requirement of 24×7 care. The family had no regular income at all since last one year due to the situation wherein Deepa was unable to go for work to look after her ailing husband and two young children. The family emigrated to U.K 9 years ago and was not able to settle well due to the regulations and procedures related to their employment visas and also on the ground of Chackochan's adverse medical condition.However, the home office had granted them visa with work permit until December 2020 on the basis of the pathetic situation of the family. Chackochan was healthy enough all these years with a very hard working nature and had been in the employment right from his teenage years in India to overseas jobs in Bahrain and lastly in U.K. He had to take over the overall responsibility of his household back in India as he had lost his father in the early years of his childhood. Chackochan died in the presence of his mother and Deepa's parents as they had travelled to U.K to make the final visit to see him as per his desire. He was not able to travel as he was bedridden for almost last one year. Now, the family is looking for fund to repatriate the remains back to India for final rest in his local parish, as per Chackochan's last wish. The total expenses are estimated to be around £ 7000.00 including the flight charges for the whole family. Chackochan is hailing from Meloor near Chalakkudy in Thrissur district of Kerala, South India. The funeral ceremony has been arranged at St. Joseph's Church, Meloor, Kerala, India. The local Hull Malayali community has arranged the farewell to him on Wednesday 13th Feb at 4.30 PM at Bridlington Our Lady & St. Peter Church.
Please support the family by clicking on the following link, if you wish to donate..
https://uk.virginmoneygiving.com/fundraiser-display/showROFundraiserPage?userUrl=britishmalayali&pageUrl=43
Please ensure you give consent to claim gift aid if you are eligible as every £ 1.00 you pay will get enhanced to another £0.25 by reclaiming gift aid from HMRC.
Please visit www.britishmalayali.co.uk for news in Malayalam.
Comments
comments