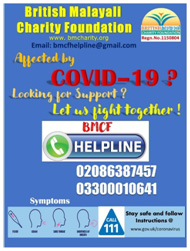 The British Malayali Charity Foundation has decided to issue Covid Support Appeal in the wake of rising number of calls received in its helpline. The Charity Foundation had already set up a helpline to support its community members, who required varieties of support due to the unprecedented outbreak of Covid 19 across the UK. The number of calls receiving  recently increased substantially looking for help in buying essentials such as groceries, baby foods etc.
The foundation was handling these cases up until recently by passing onto the local organisations wherefrom support request received and in some cases trustees/advisory committee members themselves sorted out. However, since the volume of requests have been rapidly increasing, the foundation felt the importance of collecting the fund from the public to raise funds to cope up with the demands. The lockdown measures adopted by the government to prevent the disease have adversely affected many businesses thereby losing jobs.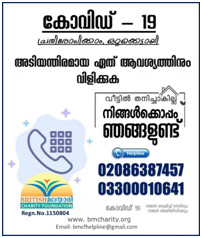 However, the government had already steppedup  to support the people by announcing various financial packages to the businesses and wider community in meeting their essential needs. The foundation had, set up the helpline with a view to inform the community about the guidelines issued by the NHS/Public Health England and also several help and support available through local administration and other government sponsored voluntary organisations. In the meantime, a good number of the community members begun to contact the helpline looking for financial help in buying groceries and rent. These requests were redirected to the local fraternities and associations wherein they provided the possible support. Trustees such as Afsal Ali, Jimmy George and advisory committee member Siby Thomas were in the forefront to reach the possible assistance.
However, the trustees felt the need to raise sufficient funds in case to support the community members, who are in great distress due to the lack of essential groceries etc and requires immediate help. The trust also felt the general fund available with the foundation will not be enough to meet a large scale requests hence decided to go for an appeal. The foundation will support the community members only by complying with the government stay at home guidelines.  The helpline numbers are 02086387457/ 03300010641 and email: [email protected]
Your donations will be much appreciated which will be used to facilitate them by buying the essential goods by giving them a small amount of money. Please ensure to give consent to reclaim if you are eligible as every £ 1.00 you donate will get enhanced to another £ 0.25 by reclaiming gift aid.
Following is the virginmoneygiving link if you wish to support: 
https://uk.virginmoneygiving.com/britishmalayali
Please visit www.britishmalayali.co.uk for the above news in Malayalam..
Comments
comments