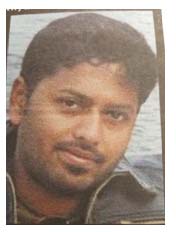 The whole community in U.K was shocked by the tragic motorway accident on M1 near Newport Pagnell in England killed 8 people on Saturday early morning 26th August 2017. One of the victims, Rishi Rajeev Kumar from Chingavanam, Kottayam Dist. Kerala was recently migrated to U.K as an IT professional and was in the early stage of building up his career along with raising his financially unsound family back in Kerala, India. 28 year old Rishi was the single breadwinner in his family, even though his mum runs a small shop back in hometown,   and he was in the process of clearing off the loans and other financial liabilities related to his studies. Charity received an application from his mother requesting for financial assistance in the wake of untimely demise of their young member in the family. Rishi was also organising the necessary funds from his current employment to build their own house and also to look after his sister's future  wedding plans. His tragic death shattered the dreams and hope of the whole family as they will have no other alternative source of financial support to proceed further, but to seek help from others.
As such, the charity has issued an emergency appeal in order to enable UK communities' to express their thoughts and sympathies in the form of donating generous amounts to the family.  Please click on the following link if you would like to donate to Rishi's family and please ensure you tick gift aid box consent column asevery £ 1.00 you donate will be enhanced to another £ 0.25 by reclaiming the gift aid from HMRC, if you are a UK tax payer. You can also pay to charity's bank a/c as per the details given in the home page.
http://uk.virginmoneygiving.com/britishmalayali
Please visit www.britishmalayali.co.uk/news/charity for further details/news in malayalam.
Comments
comments