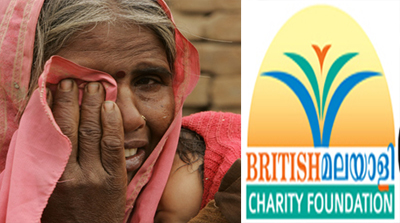 With no one to lend a hand; how can we turn our backs on those who have no one else? With the whole world struggling in the face of Covid-19, we should not forget about those who are struggling with other illnesses. Today, we ask for your help once more to help seven individuals whose lives have come to a halt during these dark times. Even if we give the money we set aside to give to carollers, these people too will have a chance at life.
"We have no one left to turn to… No one in front of us to reach out to… We are tired of life and it has been so hard. We stand perplexed, staring at life, thinking what to do. This is when we came to know about a help like this. We will keep you all in our prayers." These were the words we heard from an elderly mother when we called to investigate the requests for support put forward to British Malayali Charity Foundation by the UK Malayali community. The cruel hand of fate is the only reason these few lives are standing in front of us, and they stand helpless before us despite having stretch out their hands in front of many.
It is now December and the festive season has begun in the UK. Even though celebrations this year will be different compared to what we are used to, we can see the lights in the streets, the decorations in all the shops, and closer to our own homes, we all have our Christmas trees up in our living rooms and the Christmas lights out.

However, as we prepare for this festive season, we request you to remember British Malayali Charity Foundation. While we are surrounded by our family and for those in Tier 1 and Tier 2 our friends as well, lets take a moment to reflect on what this year has taught us. We have all learnt that we only have the present moment, jobs are temporary, and our health and happiness is worth more than money. 2020 has taught us to cherish our family, friends and loved ones and it taught us to appreciate all that we have. 2020 has taught me that all we have is this moment, right here, right now… And that every moment is fleeting, and that is what makes it special.

But today, I want to take this moment, to cast our eyes, ears and most importantly our hearts about 5,000 miles to the east, to Kerala.
Each year, British Malayali Charity Foundation does the Christmas & New Year Appeal. Even though 19 people have been shortlisted for this year's appeal, we present to our dear readers the lives of seven people who are in dire need of help in the light of the Covid-19 pandemic. As there will be no Christmas celebrations this year due to Covid-19, if you are willing to donate the money you have set aside for the various caroling groups to these poor people, they too will be able to participate in the Christmas celebrations as much as they can. This past year, the entire world was filled with anxiety and in a total crisis. As an answer to all that, as we await the dawn of a New Year with hope in our hearts and a smile on our faces, let us also bring a smile to these seven faces.
Every request for support that arrived in front of us, both directly and through the readers of British Malayali, were helpless lives filled with nothing but tears and despair. Out of those, we are bringing you those cases that could not be avoided in this Christmas & New Year appeal. Once you remove the appeals to support nursing students with small sums of money, this is the first time British Malayali Charity Foundation has had to take on so many dire cases.

Only by looking through these applications can we being to comprehend the impact Covid-19 has had on the living conditions of our fellow brothers and sisters. As we buy presents this year, we bring to you these people who are in need of your help and we are certain that you will give a small portion of your Christmas to help these individuals who require millions of rupees worth of help.

When we celebrated Onam in similar conditions, British Malayali Charity Foundation was able to wipe the tears of some families with the generous help of the British Malayali readers.

Following a motorbike accident, twelve-year-old Riza, who's in critical condition with a broken skull, and her forty-two-year-old father Sanil, who is a heart patient, have no means of a livelihood. They have approached the kind-hearted UK Malayali community as a last resort.

Suresh, a resident from Palakkad, has been bedridden for the past 16 years after falling from a tree and breaking his spine while working as a labourer, does not even have a hut to claim as his own. With elderly parents, a widowed sister, and her two little children, they all live in a shed made by tying together plastic sheets. This poor family, who struggle for daily treatment and food, has approached the good expatriate Malayali's of the UK as a last resort.

Sinomon, a native of Peruvanthanam in Idukki district, needs dialysis three times a week to stay alive. His mother and younger brother, who are both labourers, are not able to earn enough money for Sinomon's dialysis. No well-wisher can turn a blind eye to the misery of a thirty-eight-year old Sinomon and his mentally handicapped younger brother.
For both Paulson (45) who is a resident of Allanaadu, Kottayam district, who fell from a coconut tree 15 years ago, and is now bedridden after suffering a spinal injury, and for Jobin George who is a resident of Kothamangalam, Ernakulam district, who completed his nursing course, however 13 years ago, at the age of 23 was involved in an accident and now feels like he is a burden on his elderly parents who are stone workers both need the kindness of the UK Malayali community.
Theresa is an angelic five-year-old who has been paralysed since birth and has placed all her hopes in the readers of British Malayali.
Sheela, who is a breast cancer patient, has also placed her hopes in us, for her continued cancer treatment, including chemotherapy.
If you can spare a little this Christmas, please help these families by giving via Virgin Money Giving. If you pay tax, please tick the gift aid box as HMRC will give 25% of your donation to the charity. This Christmas be the ray of hope in the lives of those who are less fortunate than you.
Click here giving money through virgin money
Comments
comments