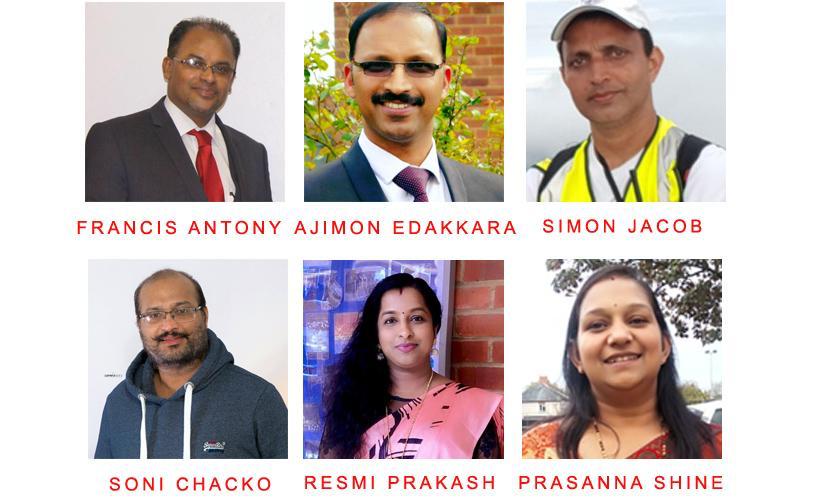 On the 10th of October 2020 at 14.00 hrs, the British Malayali Charity Foundation (BMCF) Annual General Meeting (AGM) was called to order. Due to the government restrictions currently in place to reduce the spread of Covid-19, the meeting was held virtually via the Zoom. The details of the AGM were previously announced to the public to allow for the general public to attend the meeting and raise any queries and concerns they have.
The attendees of the meeting were: Shaji Lukose (Chairman), Jagadees Nair (Vice-Chairman), George Mathew (Edathua) (Secretary), Simon Jacob (Treasuerer), Francis Antony, Afsal Avunhipurath, Augustine Mundupalackal (Tomichan Kozhuvanal), Cimy George, Roy Stephen, Shajimon KD, Soni Chacko, Sam Koshy Thiruvathil, Siby Meprathu, Ajimon Michael Edakkara, Noel Philip, Shajan Skariah, Shinu Mathews, Jimmy George. Apologies were sent ahead of the meeting from: Resmi Prakash,Prasanna Shine, and Sabu Sebastian. It was announced at the meeting that Mr Shaji Lukose and Mr Jagadees Nair would be stepping down from their respective roles as Chairman and Vice-Chairman, and Mr Jimmy George announced that he would be steeping down from the board of trustees.
At the meeting, the review of accounts was presented which stated the total funds collected during the term of the current trust members, as well as the total amount which had been handed over to individuals, institutions and projects during this period. The paper also contained the total amount BMCF had handed over since its inception along with the balance remaining. Once the paper was presented and discussed, it was approved by the board of trustees. Following this, the various activities conducted by the charity during the current term of the trustees, such as the Covid Helpline relief works, were discussed and assessed. The AGM also discussed the need to attract new members of the public as trustees and volunteers to ensure that transparency is upheld and to allow the public to take a more active part in the works of the charity. New members to the trust were unanimously elected to be part of the board of trustees for the year of 2020/21 with changes to some of their roles. Francis Antony was elected as the Chairman, with Soni Chacko as the Vice-Chairman. Ajimon Michael Edakkara was elected as the Secretary, with Resmi Prakash as the Joint-Secretary. Simon Jacob remained as the Treasurer, with Prasanna Shine as the Joint-Treasurer. Augustine Mundupalackal (Tomichan Kozhuvanal), Cimy George, Sabu Sebastian, Roy Stephen, Shaji Lukose, George Mathew, Afsal Avunhipurath and Noel Philip being the Trustees. The BMCF AGM and Trustee meeting was concluded at 1700 hrs, with the new board of trustees being placed in office.
Comments
comments