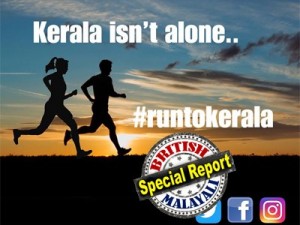 A group of young enthusiastic people from  England has taken a leading role in organising an innovative idea of fundraising event. #RunToKerala is a humble effort by a number of kind hearted people to help rebuild the south Indian state of Kerala (https://en.wikipedia.org/wiki/Kerala), which was devastated by the recent severe floods due to the  unprecedented tropical rainfall/landslides and the run has  designed  based on the distance of 10000 Kms between London and Thiruvanathapuram, the capital city of Kerala. #RunToKerala plan to raise a minimum of £10,000.00 involving more than 200 runners by achieving a combined distance of 10,000KM all over the world.
The raised funds will go to the Kerala Chief Minister's Distress Relief Fund ( CMDRF), a charity set up to assist in the extra- ordinary humanitarian situations by Govt of Kerala, who is coordinating the reconstruction and rehabilitation operations.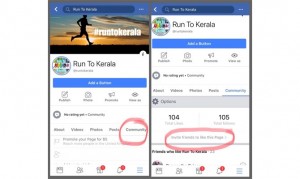 The South Indian State of Kerala has been hit by severe flooding In August 2018, due to unusually high rainfall during the monsoon season. This is Kerala's worst floods in nearly a century, over 480 people died while over 1 million people were displaced and all 14 districts of the state, were placed on high alert.  The flood gates of 35 out of 42 dams in the state were opened for the first time in history.
At the height of the floods, there were 1.45 million people in more than 3,000 relief camps. All three wings of the armed forces were pressed into action for a massive rescue operation. Hospitals were struggling as there was no running electricity, water, and medical equipment are damaged; the flood had devastating effect on schools and public infrastructure; 57,000 hectares of agriculture crops have been destroyed. As such, now the state  is in a dire need for funds to 'Rebuild Kerala' to its original glory.
The donations through British Malayali Charity Foundation, which is a registered charity in UK will top up an extra 25% to all donations by reclaiming gift aid from HMRC if the donor is eligible and a UK tax payer.
The organisers welcomed people from all walks of life  to participate in the run and contribute generously for this cause through the following virginmoney giving link.Please make sure to give consent for Gift Aid if you are a UK tax payer as your donation will be enhanced to another 25% by  reclaiming the gift aid from the UK government HMRC.
http://www.virginmoneygiving.com/runtokerala
Those who would like to join the running campaign, please drop an email to [email protected] in order to  send you an activation link using which you may register your details against the fund raising campaign. Actual run starts on 29th September 2018, Saturday and finish on 10th November 2018 Saturday. A mobile application 'Strava' will be using  to track the runs. Please join the Test Run Club created for trials. Live strava campaign for actual runs will be created towards the start of the event – 29th September, 2018.
https://www.strava.com/clubs/472828
Follow #RunToKerala on Facebook, Twitter and Instagram and post your updates to motivate others ( fb.com/runtokerala, Twitter: @runtokerala , Instagram: @runtokerala )
For inquiries please email:[email protected].
For more news/details in Malayalam, please visit www.britishmalayali.co.uk
Comments
comments