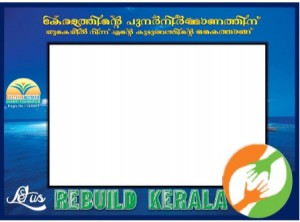 In an attempt to stimulate the ongoing 'Kerala Floods Relief Appeal', the trust has introduced a new challenge in correspondence with Kerala Chief Minister's 'One Months Salary Challenge'. The trust urged its supporters to donate a minimum of £ 50.00 from a family in U.K through its just announced  'My family challenge from UK to rebuild Kerala'. The Charity is targeting an amount of £50,000.00 from 1000 families through this drive. As has been widely discussed both in the trust and its advisory committee, the trust felt that the current appeal is exceptionally important to rebuild Kerala in the wake of the scale of devastation caused by the recent worst floods and landslides. As decided previously, all the raised funds will be going to the Kerala Chief Ministers' Distress Relief Fund (CMDRF).
The unconfirmed reports of damages and loss to the state are estimated to be over £ 3 billion and hundreds of thousands of  families have lost everything including their houses in the various pockets of affected regions, which are still unaccounted. The state of Kerala needs massive support in order to overcome the present crisis and malayalees across the world have now rallies around to help their home state. As a matter of fact, people from all other communities including locals are generously donating, as can be seen from virginmoneygiving's link.
Apart from the above, BMCF's supporting partners are working out varieties of fundraising events  such as an 8 years old 4th standard boy from Leeds, England, Daniel Kunnel undertake bike challenge from Liverpool to Leeds. Also, a group of  enthusiastic people based in Bristol, England has launched an event known as 'Run to Kerala' estimating a participation of  200 runners across the world with an overall target of 10000 Kms run based on the distance from London to Thiruvanathapuram, capital city of Kerala. Other groups like 'Nadinoppam' from England  are planning events such as 'Curry Nights' and a few other such as Kerala School Coventry has done their effort by street collection etc. to gather momentum for the appeal. While BMCF itself has raised nearly £ 50,000.00, supporting partners have already contributed over £ 13,000.00.  People can donate either through BMCF Virginmoneygiving link or through its  supporting partners to take  part in the 'My family challenge from U.K to rebuild Kerala'. Charity will be creating the register of the supporters of this challenge and will Be publishing their details, if needed and consented by the donors. The trustees and advisory committee members have already pledged their support to the new challenge and begun to donate.
Please click on the following link if you would like to donate and please ensure you tick gift aid box consent column as every £ 1.00 you donate will be enhanced to another £ 0.25 by reclaiming the gift aid from HMRC, if you are a UK tax payer. You can also pay to charity's bank a/c as per the details given in the home page.
https://uk.virginmoneygiving.com/fundraiser-display/showROFundraiserPage?userUrl=britishmalayali&pageUrl=38
Please visit www.britishmalayali.co.uk/news/charity for further details/news inmalayalam.
Comments
comments