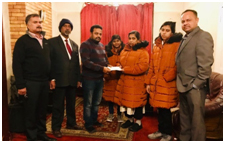 BMCF trustees Afsal Ali and Cimy George given the cheque to Mrs Sobha Hari, Late Hari's wife by visiting them in London on 17th December 2019. The Hari Appel issued by the foundation on 25th November 2019 in response to the application received from the family, which was overwhelmy accepted by the wider community in UK by donating generously. An amount of £ 22,150.00 were able to give the family, who had to make an urgent visit to London during the last critical hospitalisation days of Late Hari. The funeral was held on 17th December 2019 at Breakspear crematoriumRuislip.
The cheque handed by trustees to Mrs. Sobha and children in the presences of Mr. Carmal Miranda, Kerala Loksabha member and a well known social activist and Mr. Rajesh Sahadevan, Executive Committee Member of VayalarRamavarma Cultural Centre, Kerala and also member of Association if Indian Communists (UK)
The appeal had issued with the intention of running 5 days to close by 30th November 2019 but was extended later by the trust to receive the donations until 10th December 2019 due to the continuous flow of  donations. However, the final closing figure was worked out as on 11th December 2019 including all the funds received and while an amount of £ 20,887.25 came through virginmoneygiving link with gift aid, and amount of £ 2,045.00 donated directly to charity's bank a/c.  After deducting virginmoneygiving's 4.5% of commission charges which comes to £ 786.00 and also added an amount £ 3.75 from BMCF general fund, a total amount of £ 22,150.00 will hand over to the family.The trustees are making arrangement to give the above fund to Mrs. Sobha Hari, w/o Late Hari who had to make an urgent visit to UK from Kerala with their children while Late Hari was admitted into the hospital with critical condition. The funeral has been arranged in London on 17th December 2019.
Please visit www.britishmalayali.co.uk/news/charity for further details/news in malayalam
Comments
comments