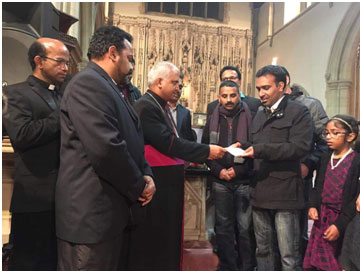 Once again the Malayali community in U.K came together hand in hand to support the family a young nurse died unexpectedly leaving her husband and little child back in India. A total number of 484 people donated through virginmoney giving page to the tune of       £ 22753.06 whereas £ 2225.00 were collected through charity's bank a/c. Out of the total amount, £ 662 were deducted to the commission charges of virginmoney.  All the expenses including the cost of funeral directors (£ 3178) and accompanying person's travelling expenses (£896.35) were borne by the charity. Rest of the amount was divided into two i.e. £ 14064.00 in the name of deceased daughter Olivia to facilitate to get matured at her reaching the age of 18 whereas an amount of £ 6078.00 was given to    Mr. Charms, Josy's husband. The fund was divided exactly as per the instructions of      Mr. Charms and also with the support of local community.  Cheques were handed over by the Bishop of Great Briton Syromalabar Bishop Rev. Dr. Mar.Joseph Srampickal  to the family relative Mr. Maju Antony, who will be travelling with the remains of late Josy to India.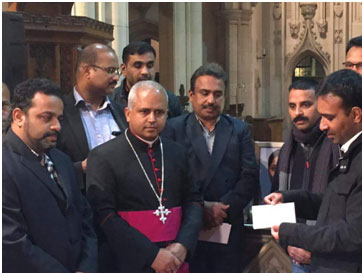 The rituals were performed and the mortal remains kept at Our Lady of Ransom, Eastborne for the community to pay their last respects.  The remains will be repatriated on Wednesday and the funeral will be held at St. Thomas Church at Mavady in Idukki District of kerala State, wherefrom Josy hails.
Charity Chairman Mr. Tomichen Kozhuvanal, Secretary Mr. Cimy George and trustee Mr. Sony Chacko were present at the brief fund handing over at the Church.
Further news in Malayalam can be viewed in www.britishmalalayali.co.uk .
Comments
comments