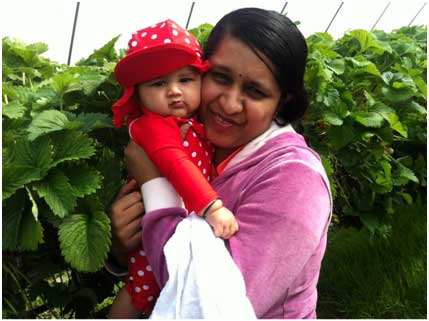 The U.K malalayali community is in real shock after receiving the sad and sudden demise of Mrs. Jossy Antony from Eastbourne, who died at the age of 30 leaving her 5 year old little girl and grieving husband back in India.  As a qualified nurse by profession from India, Mrs. Jossy came to U.K seven years ago in search of better job and life as everyone. However, due to the ongoing changes in the policies and procedures along with the stringent rules of the recent immigration acts, she could not apply for the Permanent Residency in U.K. Moreover, her application for granting/extending visa was held in Home Office along with her original travelling documents. Jossy's husband and the child had to leave U.K recently to India due to the above procedural delays and they were not at her side at the time death.  Mrs. Jossy was leading a normal healthy life up until recently and her condition deteriorated only recently with the symptoms of tooth ache and developing temperature. She was diagnosed with leukaemia   only couple of days ago. She hails from Kattappana in Induki Dist. of Kerala, India. Hence, the family and the friends are requesting the wider community in U.K for financial assistance in repatriating the remains to India so that the necessary arrangements for the burial could be done at her homeland.
As such, in response to the application received from Jossy's uncle, who live in U.K alongwith the local Malayali Association, the trustees arranged an unprecedented meeting to decide to go for an emergency appeal to raise the funds.
Your contribution may please be sent by clicking 'donate' button on the top righthand side of this home page or can be sent directly to charity's bank a/c as detailed below. Please ensure to tick the gift aid box if you pay through virginmoneylink if you are a U.K tax payer as every £ 1.00 you pay will be enhanced to another £ 0.25 due to the reclaiming of gift aid.
Further news in Malayalam can be viewed in www.britishmakalayali.co.uk .
Comments
comments