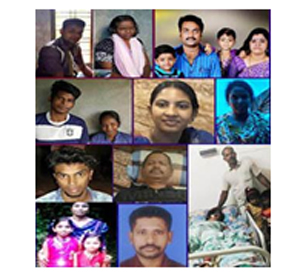 Charity closed the appeal last night with an overwhelming support of UK malayalees to the tune of total amount raised to £ 8750.75 out of which £ 2787.00 received directly in charity's bank a/c. An amount of £ 173.25 deducted to virginmoneygiving's 3.5% commission and £22.50 added from general fund to make a round figure of £ 8600..00.
The trustees discussed in details to distribute the funds and have decided to give major share to the family of Late 23 years old  Ashmy Jinesh from Kothamangalam, who succumbed to her liver disease and passed away unexpectedly just before the appeal was going to release. An amount of £ 1700.00 will be given to Mr. Jinesh, husband of Ashmy who left with exorbitant hospital bills incurred for the treatment of his wife. It has also decided to hand over an amount of £ 1500.00 to Ramkumar  from Ayarkkunnam, Kottayam, who met with a road traffic accident and had to remove his right leg to recover from the injury. Now, he will be able to organise an  artificial leg  with the above amount so that he will be able to do some kind of job to support his mother and can build up his life too.
Following are the details of 9 families who is going to receive £ 600.00 each:
39 years old Shiby from Karumatty, Ambalappuzha, Alappuzha district is  suffering from kidney diseases and as an insult to injury, he recently fell from while climbing coconut tree. Another case featured is of Annamma from Kozhuvanal, Kottayam, whose legs were amputated due to the severity of her medical condition i.e. diabetes. The ill fate of a family of four who met with a road accident and has been bedridden for months looking for others help is also featured in the 'New Year Appeal 2018'. 41 year old Manish from Thrissur was travelling on a motorbike with his wife and two children last year in January while met with an accident.  A family from Kambammettu in Idukki District has a pathetic story with 19 years old Jibin George is suffering from acute kidney disease and he needs an urgent replacement where his mother is ready to donate but huge bill is a hinderance for them to proceed further. His father was a mason but fell recently which made him unable to work with his usual job. Sheeja from Kannur has a different story and she is secluded from her marital family due to children's gender discrimination. She has two daughters, which made her isolated from her family and led to divorce from her estranged husband from a different state of India.
The appeal also have narrated the life story of two families, where children had to discontinue their studies due to poor financial background. Sravana from Ellumpuram, Muttom in Indukki district has no means to study along with no proper housing. There is another family with same situation at Thumpimala, Kollappally in Kottayam Dist. Three children find it difficult to continue their studies due to insufficient financial resources in the family. Josephine, a resident at Kokkamangalam, Cherthala in Alappuzha dist. had also met with a road accident an year ago while she was pregnant and her husband Antony find it very difficult to meet her medical expenses from his job as a driver. Saji from Kothamangalam was the sole breadwinner in the whole family when he diagnosed with haemorrhage in the brain. Saji is a is a P.G holder in commerce and the ill fate continues to haunt the family with his both elder & young brother's accident. Now, he is partially paralysed with the disease and find it difficult to look after the whole family household including his own, brothers and elderly parents.
Please visit www.britishmalayali.co.uk/news/charity for further details/news in malayalam.
Comments
comments