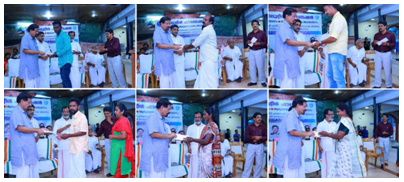 'New Year Appeal 2018' amount of £ 8600.00 given to all the 11 beneficiaries in two occasions. The meeting organised at Gandhibhavan, Pathanapuram, Kollam on Satuday 10th February was attended by Hon. Minister of Kerala Govt. Shri. A.K Balan and the Chairman of Pravasi Welfare Board and ex M.L.A Shri. P.T Kunhimuhamad.  Charity's trustee and Managaing Director of 'Marunadan Malayali' Mr. ShajanSkariah was also present where 9 individuals received their share of appeal.
An amount of £ 1700.00 is  given to Mr. Jinesh from Kothamanagalam, husband of LateAshmy who left with exorbitant hospital bills incurred for the treatment of his deceased wife.
Following are the details of 8 families who received £ 600.00 each:
A kidney disease sufferer, 39 years old Shiby from Karumatty, Ambalappuzha, Alappuzha district, the bread winner of a family of four who met with a road accident and has been bedridden for months, Manish from Thrissur,another 19 year old young boy who suffers from kidney disease i.e. Jibin George from Kambammettu in Idukki District, Sheeja from Kannur has a different story and she is secluded from her marital family due to children's gender discrimination, the families of Sravana from Muttom, Idukki Dist&Shantha from Kollappally, Kottayam Dist., Josephinea resident from Cherthala in Alappuzha dist.,Saji from Kothamangalam who is partially paralysed  with haemorrhage in the brain.
Two other beneficiaries were given raised funds at another function, which  was organised at Govt. L.P School, Kozhuvanal chaired  local  Panchayat president Mr.Thomas George. The amount was handed over by Betty Roy, district panchayat member. Mr. Joseph Chamakkala, ex -panchayat president of Ayarkkunnam was also present during the function.Ramkmar from Ayarkkunnam received an amount of £ 1500.00 , who met with a road traffic accident and had to remove his right leg to recover from the injury. Now, he will be able to organise an  artificial leg  with the above amount so that he will be able to do some kind of job to support his mother and can build up his life too. Annamma from Kozhuvanal, Kottayam, whose legs were amputated due to the severity of her medical condition i.e. diabetes also received £ 600.00 during the meeting.Please visit www.britishmalayali.co.uk/news/charity for further details/news in malayalam
Comments
comments