The festive season of Onam has approached once again with its full spirit and enthusiasm and malayalees across the world are getting ready  to  welcome the mythical king of 'Mahabali'. However, British Malayali Charity Foundation (BMCF)has decided to celebrate in a very different way by  by selecting a few over 50 applications received for financial assistance towards medical treatment for life-threatening diseases.
Anagha- a blood cancer patient
The heart–breaking story of Anagha, an 8th standard student from Keezhpally in Aralam Panchayat, Kannur District is  deserved to be looked into sympathetically as she is suffering from blood cancer. Anagha's parents, Anil & Sheeja is in search for a never -reaching sum of Rs. 15 lakhs to facilitate the stem cell replant surgery, which was suggested by the doctors as the only way-out to resolve her crisis of  worsening condition. Since her parents are just daily-wage earners with rented house, villagers have formed a 'treatment help committee' to generate funds to  help the family. Her parents has the responsibility to look after two more children going to 6th & 3rd standards, apart from Anagha. The BMCF trustees has decided to incorporate this case after making a thorough enquiry with Panchayat President Mr.V.T Thomas & Parish Priest Fr. Babu Paul.
Mohammed Hadi- 12 years,  with a rare disease of 'sojiya'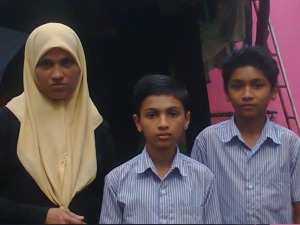 12 years old Mohammed Hadi, from Kodenchery, Kozhikodu district is suffering from the above rare condition from the age of 8 and as a result, his organs such as liver and other parts of the body are fully swollen with extreme pain and  miseries. They were able to confirm and diagnose the  same only after the marathon treatments in various hospitals such as Kozhikode Medical College, MIMS & Velloor Hospital. He is presently undergoing a treatment wherein a course of 20 injections required with a ratio of one per month. Each injection costs Rs. 18500.00 and as per the medical advice, his treatment needs to be continued up until the age of 18 to get rid of this vicious circle..  Mohammed father's daily living wages out of his job from the school bus is nowhere near to his son's treatment as he has four children including Mohammed.
5 years old  brain tumour patient Tom Baiju



Tom's case is also not different from the above other cases as the severity of the sickness along with poor financial background of the parents have crippled their family's day to day life. Apparently, Tom is their only child whereas he is suffering from life-threatening condition of brain tumour right from the age of 3 ½ years. Tom had undergone treatments in Marygiri Hospital, Bharananganam, Palai and Kottayam Medical College. The emergency surgery was carried-out in Sri Chithira Hospital, Trivandrum after the diagnosis through MRI scan. The little boy had to go through 2 key hole & a major surgeries already in this very young age. On the other hand, the poor parents are running from pillar to post to save their only child by pledging/disposing-off whatever they have including their house and 30 cents of land. They are not able to go even for a daily wage job due to the fact that they live in a rented house nearby Marygiri Hospital in order to provide daily physiotherapy for their precious child. They have already spent over Rs. 12 lakhs and looking for further funds to provide neuro/body physio, which is inevitable for the speedy recovery of their little child. Tom is from Thidanadu, Kottayam District and his case was referred by 'British malayali' reader Mr. Saji Francis and verified by our Jt. Secretary, Manoj Mathew
You may please help the above cases by clicking 'donate now' button given below of this page or through the bank details given below the home page.
Donate Now
Comments
comments