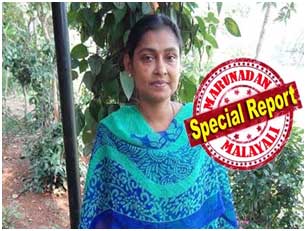 As the series of stories continues in 'British Malayali' online newspaper about the ten proposed and approved cases for the consideration of this appeal, the case of Mrs.Shaji has been particularly noticed widely due to the pathetic nature of her life story. She hails from a family wherein including her three other sisters and widowed mum. Apart from her elder sister, who is disabled with deaf and dumb since birth, Mrs. Shaji has a twin sister who lives in Libya with her husband  but going through very difficult situation currently due to the uncertain political crisis in Libya and the younger sister is a nun.  Mrs. Shaji, a native of Killimanagalam, Vadakkancherry in Trissur Dist. of Kerala has been affected with her miseries of life right from the unexpected demise of her husband when her one and only little child Master Sharon was two years old. The ill-fate haunted her in the form of kidney disease thereafter and her both kidneys were damaged badly, which  left with the medical advice for immediate transplantation as the only solution.  As a blessing to Mrs. Shaji, first time ever a nun by name Sr. Merlin came forward to donate one of her kidneys to save Mrs. Shaji's life without any monetary benefits. However, to make the things from bad to worse, Mrs. Shaji was diagnosed with HIV positive after the surgery due to the lack of care and negligence in procedures followed during the transplant surgery. As a matter of fact, the donor (Mr.Merlin) was tested and cleared negative for HIV well before the surgery.
Even after going through all kind of hardship and miseries in her life, she was diagnosed with liver disease recently. Now, Mrs. Shaji has no other hope in her life but just to look after her elderly mother and deaf and dumb sister. Along with this she foresee a bright future to her young child if necessary financial support is given, who is brilliant in his 10th standard. This case was referred to us by a priest in Kerala, Rev. Fr. George Nirappukalayil, who is well known in working amongst unorganised labourers and also a campaigner for green/echo/cluster farming, who happened to be a classmate of Mrs. Shaji, an intelligent student as per Fr. George.
Out of the ten cases six have already been featured in 'British Malayali' online newsportal including the one among Mrs. Shaji's as detailed above. Others are the heart-throbbing story of a 13 year old Sneha from Pathanapuram in Kollam district of Kerala, who is suffering from leukaemia at her young age, another 13 year old girl and brain tumour patient from Cherthala, Alappuzha dist., i.e. Arunima, Krishnanunni (12) from Kadakkal, Kollam dist with brain disease of meningitis, 29 year kidney patient Liya Sunny from Okkal, Ernakulam dist. and Mr. Ramnath from Thiruvananthapuram, who has kidney conditions with very poor means of financial resources.
Your contribution may please be sent by clicking 'donate' button on the top right hand side of this home page or can be sent directly to charity's bank a/c as detailed below. Please ensure to tick the gift aid box if you pay through virginmoneylink if you are a U.K tax payer as every £ 1.00 you pay will be enhanced to another £ 0.25 by reclaiming the gift aid from HMRC.  Further news in Malayalam can be viewed in www.britishmakalayali.co.uk .
Comments
comments