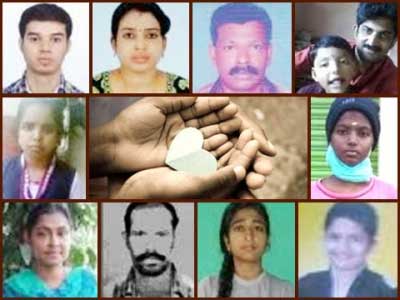 Despite of the tremendous support received in the recently closed 'Jossy Appeal', the UK Malayali community continued their patronage to British Malayali Charity Foundation by generously responding to the above appeal by raising an amount of £ 14000.00. The community has once again reassured their confidence and support to the noble causes being initiated by the charity from time to time to help the poor and needy. Their great compassion and sympathy have paved the way for benefitting substantial and adequate amount to all the ten beneficiaries, their stories run in 'British Malyali' during the past Christmas/New year Season. A single reader by name Preethi donated an amount of
£1250.00 to this appeal including the gift aid through virginmoney giving. While an amount of £ 11883.75 received through virginmoney, an amount of £ 2544.00 sent directly to bank a/c.
The total amount have been divided into three groups in order to meet the medical expenses for the ten beneficiaries as per their requirements.
Two 13 years old girls will be receiving an amount of £ 1650.00 in group one. They are Sneha from Pathanapuram in Kollam district of Kerala, who is suffering from leukaemia and Arunima, a brain tumour patient from Cherthala, Alappuzha dist.
In group two, a 29 year kidney patient, Liya Sunny from Okkal, Ernakulam dist., Mr. Ramnath from Thiruvananthapuram, who has kidney condition and another kidney patient Ancy Antony from Trissur district will be receiving £ 1400.00 each.
A bedridden patient with spinal code condition, Anil Kumar from Varkala, Santhosh Mathew from Mallappally, who is suffering from kidney disease, Nikhil from Kannur dist, a cancer patient, a resident of Vadakkancherry in Trissur dist. and a kidney disease patient  i.e. Shaji Raju and Krishnanunni (12) from Kadakkal, Kollam dist with brain disease of meningitis are the beneficiaries, those will be receiving £ 1300.00 each from the above appeal.
The fund distribution event will be held at Thiruvananthapuram on 11th January 2017.
Further news in Malayalam can be viewed/read in www.britishmakalayali.co.uk .
Comments
comments