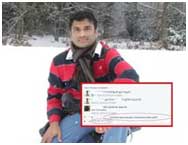 The UK Malayalees overwhelmingly backed-up  the above appeal by donating an amount of £ 5550.00 to support the family of Mr. Shivaprasad, who found dead in a London flat without anyone noticing for over two weeks.  Mr. Shivaprasad was a chef used to live his own  and his family were away in Thiruvananthapuram in India. He hails from the village of Marthandum in Thiruvananthapuram district. The Indian embassy in U.K has accepted his family's request to repatriate his body to India by arranging finance from its own fund. However, BMCF trustees have decided to assist the same with the above collected money in the event of any procedural delays from embassy. But, if the embassy manages to do the same then the above fund will be given to Mr. Shivaprasad's family (wife and children) in India as  a financial support. The trustees have also decided to extend the appeal if the uncertainty continues over repatriation by taking up both the issues by the trust itself i.e. funding for repatriation and  helping the family. However, a final decision on this will be taken up after once the clear picture is emerged.
In the meantime, the trustees have thanked UK malayalees for their generous support in this case as well.
Further news in Malayalam can be viewed/read in www.britishmakalayali.co.uk .
Comments
comments