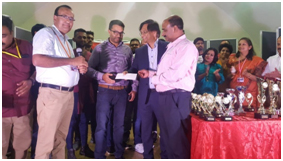 The  skydiving event,  which was scheduled to be held on Saturday the 28th September 2019 at Netheravon airfield, Salisbury was cancelled by the skydiving agency i.e. Army Parachute Association due to the high winds until 2nd of October 2019.  However, a get together was organised at Laverstock in Salisbury, which was attended by most of the skydiving participants, BMCF trustees and its supporters. A brief meeting was conducted and an amount of £ 500.00 donated to Swindon & Wiltshire Children's Deaf Society.
The trophies were given to the highest fundraisers as a token of appreciation towards their efforts. Rhys Thomas won the 1st prize, Annie Paliath 2nd and Fr. George Puthoor 3rd in this category. The prizes were given in the students section, highest achievers between 1st and 15thSeptember  and also to everyone who have collected over £ 1000.00.  The cine and mimic artist Kalabhavan Dileep entertained the audience with his charismatic hosting with music, dance and other activities.  The Southampton based charity Amma arranged the food and refreshments to the people attended.
The fundraising activity was boosted by the arrival  of ShajanSkariah , the founding chairman of the foundation, who decided to participate in the skydiving event lately.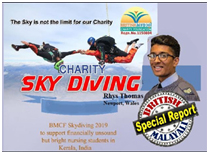 A special meeting of the trust was held with available trustees to assess and decide about the future activities. The trust discussed about the ongoing nursing students support scheme applications and its selection processes.
As per the latest report received, four skydivers is going to undertake their challenge near Cambridge on 2nd Wednesday 2019.  The arrangements are being done in order to complete the rest of the jumps at an earlier date.
For more details about skydiving, please contact the following convenors of the programme:
Jagdess Nair-07960263495,Roy Stephen BEM-079051767737, Afsal Ali-07772385316Email: [email protected]
Please visit www.britishmalayali.co.uk/news/charity for further details/news in malayalam.
Comments
comments