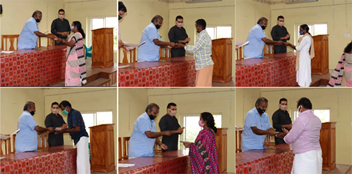 The  'Onam Appeal 2020' fund  distributed to six beneficiaries in a brief function organised at Erumely in Kottayam district on 3rd October 2020. The fund were given to the beneficiaries at Erumely Panchayat by the president T. S Krishnakumar in the presence of Panchayat standing committee chairman Sojan Skariah ad BMCF founding chairman Shajan Skariah. All the six beneficiaries received a cheque of £ 1,350.00 each totalling to £ 8,100.00.
Also an amount of £ 500.00 given to 28 years old Martin Selvory,  who was hospitalised earlier with various medical conditions.
BMCF trustee Cimy George visited Martin at the hospital to receive the receipt as the fund was already transferred to Martin through online bank a/c.
The total fund donated to seven beneficiaries stands £ 8,600.00
The details of six beneficiaries are as follows:
Eldhose Paul-Muvattupuzha
Anjana Santhosh-Erumely
Jeron Shanty-Kanjirappally
Mohanda A.S-Pala
Majo Thomas-Alappuzha
Joseph P.A-Thuravoor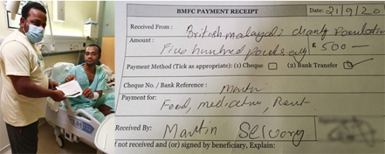 One of the seven applicants included into the appeal in the beginning i.e. 24 years old Ashna Jolly, Kothamangalam died unexpectedly and as such, her family had informed the trust that they no longer needed the financial support from the raised funds.
Please visit www.britishmalayali.co.uk if you wish to read in Malayalam…
Comments
comments