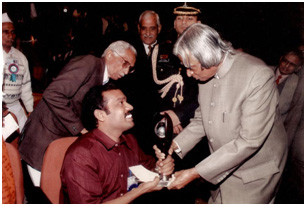 This year's 'Onam Appeal 2016' by the charity has especially been attracted by the stories of the individuals, who have been either not supported by the system when they were in crisis or symbol of utter negligence and lack of compassion and humanity of the general public. Mr. Biju Varghese from Mukkuttuthara in Pathanamthitta dist. of Kerala is a paraplegic, who has been paralysed from the waist due to a motorbike  accident back in 1997. He was physically fit living with his normal life as a trained electrician  up until the accident which overturned his fate and made him bedridden for long seven years. But, he never felt disappointed although he became physically disabled, his motivation and enthusiasm within himself prompted him to modify and invent specially-converted car in 2004 which can be driven by paraplegics just with the assistance of their hands.  Mr. Biju achieved this adding a small system without any major alteration in the original make of the car but only with some additional cables and wires.  The necessary license for the use of this car was approved by the regulatory authority, the Automotive Research Society of India, Pune in 2011. This was helpful to many disabled people including the world famous disabled arm wrestling champion from Kerala, India  Mr.Joby Mathew who has deformed hips and stunted legs and suffers with proximal femoral focal deficiency. His new design and transformation of the car was recognised and appreciated by many honourable personalities including Presidents of India, Governor of Kerala, politicians and the wider public.   While Mr. Biju was trying to expand his modification works little more wider, his ill fate hunted him in the form of brain tumour to his beloved wife, Juby who was the whole and sole of their family.  Mrs. Juby used to fill the gap of wheelchair bound Biju's disability to run round the household particularly to care of their little child. The treatment for Juby crippled their financial situation further which was already in bad shape due to the ongoing expansion of his garage and the family is left with a huge amount of debts and loans.  The very authorities, who could have helped Biju otherwise   also turned a blind eye towards him by not offering whatsoever kind of assistance and support to such an inspiring and hardworking young man. Now, Mr. Biju is in front of us looking for financial assistance not only to himself to overcome the crisis but to develop his garage also, which will be useful for many disabled people around.
Arjun Murali, a +2 student from Ernakulam, Kerala met with a road accident while he was walking home in the evening of Saturday 2nd April 2016. He and the fellow biker who caused the accident left bleeding on the busy road for hours neglected by the passers-by and a noble autorikshaw driver had to come and help them to reach nearby Medical Trust Hospital after more than couple of hours. Arjun sustained head injuries in the accident and the doctor treated him suggested that hospitalisation in time would have helped Arjun to retain his normal life.  He was admitted into the intensive care for over a month and further 3 months in the same hospital. Mr. Murali, the dad of Arjun,who is an autorikshaw driver finds  very difficult to cope with the exorbitant medical expenses as he has already spent over Rs. 10 lakhs for his son's treatment.  As such, Arjun is undergoing treatment at home with regular physiotherapy and other treatment and the family is looking for more fund to carry out another surgery to recover Arjun to normalcy.
The story of 5 year old little Sonimon from Kongandur, Kottayam dist. also features in the 'Onam appeal 2016' as his health condition was badly affected by the defect in the brain and heart right from the birth  which caused him to be a blind. The appalling condition of the family including his mum who is partially blind and his 17 year old elder brother, who was injured in the recent road accident turned the things from bad to worse. His dad, who does the labour job on daily basis. The family needs a substantial amount of money for the cost of surgery, which will give eyesight to Sonimon.
The family of Mr. Mani (63) from Kothanalloor in Kottayam dist. also looking for mercy from us as he is  paralysed on his right side with regular medication. As an insult to injury, his young son-in-law killed recently in a road accident which jeopardised his daughter's life along with her two small children. Now, Mani's other daughter and her family look after whole the household including the medical treatment.
We are running individual stories  in 'British Malayali' news portal highlighting the overall situation and background of the beneficiaries which can be viewed/read by visiting www.britishmalayali.co.uk. Please click 'donate' button on the top right handside of this page to be a part of our efforts in assisting the needy or you may send your donation through our bank a/c given on the bottom lefthand side…
Comments
comments