As one of the largest charity organisation of UK malayalees, British Malayali Charity Foundation has already given an overwhelming amount of about £ 600,000.00 within a short span of period from its inception. Apart from giving a helping hand to the needy people in the Southern Indian state of Kerala-an emigrated community in U.K who support the charity- local charities such as DEC, Cancer Research UK, Diabetes UK, Yorkshire air ambulance, Antony Nolan trust & Llanberis Mountain Rescue were also supported.
British Malayali Charity  Foundation has been working with the benevolent support of U.K malayalees by regular appeals to give relief to the needy. Unlike other charities 10 to 15 trustees works voluntarily for the foundation without incurring any expenses or remuneration. The single largest amount of £ 88,700.00 was raised in the history of charity towards 'Kerala Floods Relief Appeal', which handed over to Chief Minister of Kerala on 12th November 2018 to assist the people of Kerala in the wake of worst hit monsoon floods in August 2018, which costed the state exchequer more than £ 3 billion and lost over 400 lives. Out of over 50 projects and appeals undertaken, more than 200 people with  various life threatening diseases in  Kerala, India were supported with funds for their ongoing treatments. During this period, professional education sector of nursing was also considered by announcing scholarship amount of around £ 40,000.00 given to 110 Nursing students in Kerala, India. Not only the individuals or families were in the list but voluntary, humanitarian and other NGO organisations  and projects were also supported by the charity. In fact, thousands of people benefitted indirectly through this in India, U.K and other countries.
ICH Kottayam (Govt. Childrens Hospital),  Paravur Fire works Tragedy , Kollam, Gandhibhavan, Kollam(A place for destitutes), Nanniyodu Palliative  Care project of Govt. of Kerala, support to Prof. T.J Joseph for relief against communal hatred/terrorism & tribal community welfare support throughout Kerala are the projects/institutions in India. Charity showed its presence internationally as well while assisting the people in Nepal by Nepal Earthquake relief fund, African Ebola Relief(through DEC, UK) and also to the Uttarkhand Flood Relief(India).
Over and above this, British Malayali Charity Foundation is always  there to support whenever there is a crisis in several families in U.K either due to the sudden demises or  life threatening diseases of the near and dear ones. The foundation has also conducted public charity events in U.K such as Skydiving in Nottingham, England during August/September 2017 by the participation of 33 people from several walks of life and raised an amount of £ 42,305.00. Another event of Three peak challenge held in July 2018 raised £ 20988.00 by the participation of 26 challengers..
Now, the charity has issued Christmas-New Year 2018 appeal featuring the cases of ill-fated families in Kerala, India, who are struggling to cope with their daily normal life due to the life threatening diseases of their family members and also because of poor financial background.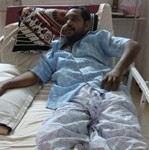 Manoj Joseph, 39 years young man from Onamthuruth in Kottayam district is semi paralysed and bedridden last three months due to a condition caused by high blood pressure. Manoj is the sole breadwinner of the family with his wife and two young children. The whole village along with his  friends have rallied behind his family to raise enough fund to help financially to recover from his illness.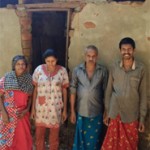 The story of George Thomas and his family from Chemberi in Kannur district is also included in the appeal seeking the attention of UK malayalees. Three of the family members including sixty  year old George, his wife Rosamma and  his thirty years old son Vinod  are hear patients unable to do any kind of work. Their daughter 29 years old Smitha is mentally retarded.  And their house is inhabitable with appalling condition  which needs to be needs to be rebuilt.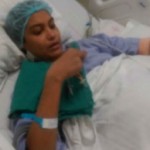 30 years old Neethu Sajith from Angamaly in Ernakulam district has a rare and fatal  medical condition called acquired haemophilia  diagnosed with her pregnancy. Now Neethu is admitted into hospital as this disease is found only one in one and half million people.  Her newly born twin are also suspected to have infected with this disease. The couple already has a two years old son.  The exorbitant hospital bills and treatment expenses are beyond family's limit and hence request the support of UK malayalees.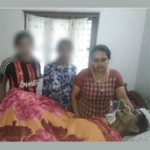 A young wife and her two daughters are struggling both ends to meet and the sole breadwinner in their family i.e. 48 years Eldo is in unconscious condition as a result of the brain injury caused in a road traffic accident involving his own autoriskshaw. The tragedy took place and year and half ago which crippled the normal life of Their family as whole the responsibility fell on the shoulder of Sheeja,  Eldo's wife. She is unable to go for a job as Eldo needs 24×7 care and also due to their two school going daughters.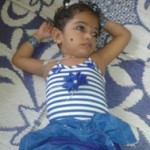 The parents of Sreeranjini, a four year old girl from Kalavur in Alappbuzha district has approached the trust with the application for financial assistance to their daughter as she diagnosed with the condition of seizures from the 40th day she born. They are continuously taking Sreeranini to different hospital for treatment all these years.  But Sreeraj, a 27 years old dad of Sreeranjini find it difficult to meet the expenses from his labour job.
Please donate to the above causes by clicking onto the following link:
https://uk.virginmoneygiving.com/fundraiser-display/showROFundraiserPage?pageId=1002752
Please ensure you give consent to claim gift aid if you are eligible as every £ 1.00 you pay will get enhanced to another £0.25 by reclaiming gift aid from HMRC.
Please visit www.britishmalayali.co.uk for news in Malayalam.
Comments
comments