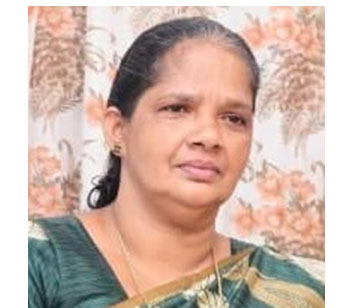 An application has been received by the trust from two UK malayaleesi.e George Xavier & Jacob Xavier in the event of the untimely death of their mother Valsamma Xavier(64), who had been a short visit to see their children in UK. Valsamma arrived in U.K on 28th April and became unwell afterwards which needed hospital admission. She succumbed to death on 14th May 2018 at Conquest hospital, Hastings,England, U.K. They hail from Manathur, Pizkaku in Kottayam district of Kerala.
The Trust has approved the application and decided to go for 'Valsamma Appeal' in the wake of family's request to support them to meet expenses. The family is planning to send the mortal remains to India in order to arrange the funeral at their home parish church i.e. St. Mary's church, Manathur. Their financial background is not adequate enough to bear the cost as they afraid to face with exorbitant hospital bills as well since Valsamma was on visit to UK. The insurance may not  cover the existing diseases even though  travel insurance was in place. Hence George Xavier from Hastings and Jacob Xavier fromShefford approached the Charity.
You may donate  by clicking 'donate' on the home page or directly into charity's bank a/c as per the details given on the home page.
Please ensure to give your consent to claim gift aid if eligible as every £ 1.00 you donate will be enhanced to another £ 0.25 by reclaiming gift aid from HMRC. For news/details in malayalam, please visit www.britishmalayali.co.uk
Comments
comments