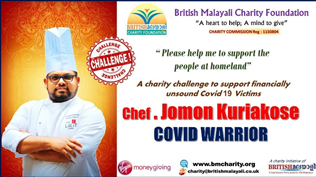 Jomon Kuriakose, from Basildon in England is  a very household name among the community as Chef Jomon. His magic touch in preparing the tasty dishes have watched millions through the nation's most watched BBC and he has also bagged  British Malayali's 'News of the year 2019' award.  Jomon has always been in the forefront to support the needy people around the world and he had undertaken  skydiving charity challenge in 2019 organised by British Malayali charity Foundation.  This was to raise funds to facilitate the studies of financially unsound nursing students from Kerala, India. 
Now, as the Covid 19's impact has adversely affected  the people from the financially weaker sections of the society throughout the world,   BMCF has issued 'Covid Support Appeal' and have appealed to people to organise charity challenges to raise funds as 'BMCF Covid Warriors'. As always,  Chef Jomon  came forward to join hands with British Malayali Charity Foundation to support the suffering fraternity in Kerala,  India as a result of the   unprecedented situation resulting from the Covid lockdown. BMCF will be providing the collected fund  directly into the hands of beneficiaries after stringent verification of applications to ascertain the genuineness.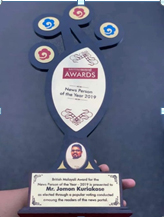 Chef Jomon has come up with an idea of organising a virtual cookery class with some food plating demonstrations by the 1st week of July 2021. He has earmarked a whole day for this charity challenge and the participants will be able to learn about the world class food preparation and its presentation. The prospective attendees may contribute whatever the amount to the fundraising page of Jomon to support him to raise the fund towards BMCF's noble cause.
Jomon has requested everyone including non- attendees of his class to donate by clicking to his virgin money giving link as follows:
https://uk.virginmoneygiving.com/britishmalayali/66
Your support is highly valued and appreciated in this difficult time.The entire collection including the 25% gift aid will be going to the hands of most deserving people in Kerala, India. Please ensure to give consent to reclaim gift aid, if eligible as every £ 1.00 you donate will get enhanced to another £ 0.25 by claiming the gift aid from HMRC.
Please read www.britishmalayali.co.uk to read above news in Malayalam
Comments
comments