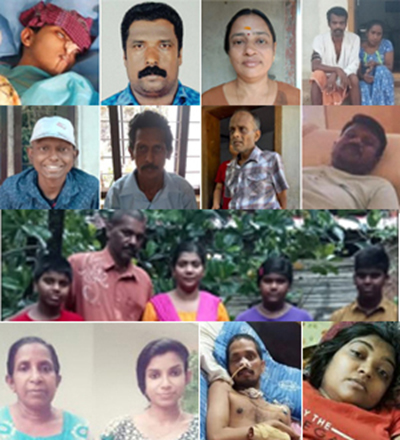 When British Malayali Charity Foundation began it's Easter and Vishu appeal this year, we were marking one year since the first coronavirus lockdown. As the nation reflected on the past year, many UK landmarks turned yellow after dark, the people of the UK lit candles, held torches or turned on their phone torches on their doorsteps in a touching tribute to the victims of coronavirus. This was the third national lockdown since Prime Minister Boris Johnson announced tough restrictions on the lives of the people on the 23rd of March 2020.

With vaccinations well underway, and the people of the UK can finally see the light at the end of the tunnel. The UK Malayalee community is one that for the most part built by the nurses that emigrated to the UK. And during the pandemic, played a vital role in helping the sick and unwell. But the generosity of the UK Malayalee community didn't end there.

When we came to you with 12 families in Kerala whose situation is in a dire situation and didn't know what their future holds for them as India was gripped by covid-19, many came to their aid. We have witnessed the goodness and compassion of the UK Malayalee's since we first began British Malayali Charity Foundation.
We would like to thank you all for showing mercy to a group of poor people who reached out to you with concern and prayer. This time, 12 cases were taken. It is reassuring to know that the charity will be able to provide temporary relief to all of them and the British Malayalee charity foundation, the board of charity has decided to provide the amount to each individual without delay. The British Malayalee Charity Foundation's Easter Vishu appeal this year received a total of £13463.47. In the appeal that happened over the last month, we received £9675.05 through virgin money giving, and £1808.51 via gift aid. This totalled to £11,483.56. From this amount the virgin money giving service fee of £135.75 was deducted resulting in a net total from virgin money giving being £11,347.81. To this amount, £329.25 from Bethlehem Pray Group that was transferred to our account, and donation from various donors (£1786.41) sent directly to our account the total came to £13463.47.
It was decided to add £36.53 from the General Fund to bring the total available to distribute up to £13500. This was done so that we could give all 12 applicants £1125 each.
The 12 applicants who requested our help are:
Jerry (Jerin), a daily labourer, who is trying to support a family with twins with disabilities from Cherthala was involved in a car accident.
Julia, a young girl who is undertreatment for brain infection at Trivandrum Sree Chithira Hospital.
Rajeev, a 38-year-old from Kumarakam who has leukaemia.
Jayasree who's from Vallikada, Arakkunnam panchayat, Muvattupuzha.
The 37-year-old from Cherthala called Ramesh.
Linsmon, the 14-year-old from Ayarkunnam.
The 40-year-old Thodupuzha resident Vinod.
Samili who's from Piravom.
The 37-year-olkd from Mundakayam called Asha.
The 40-year-old from Thiruvanathapuram called Jayaprakash.
The 45-year-old resident of Eraviperoor in Pathanamthitta called Thomas.
Divya B V from Thiruvanathapuram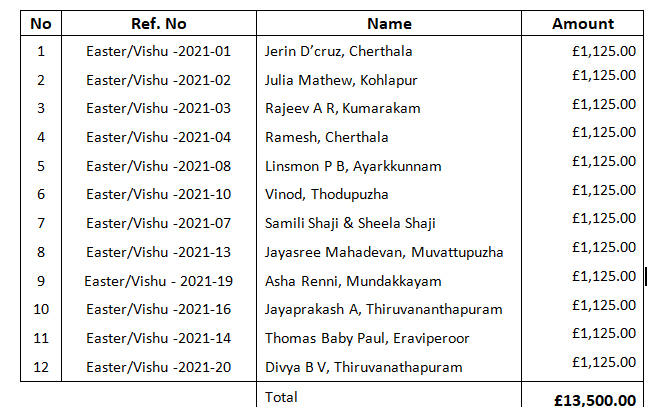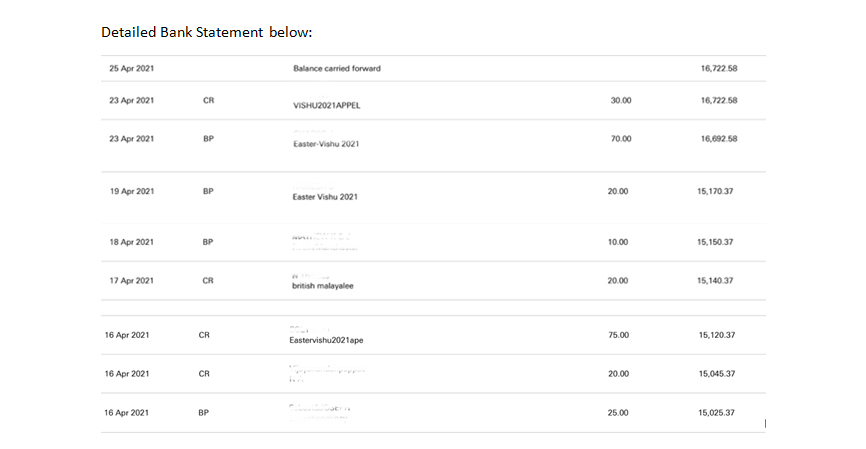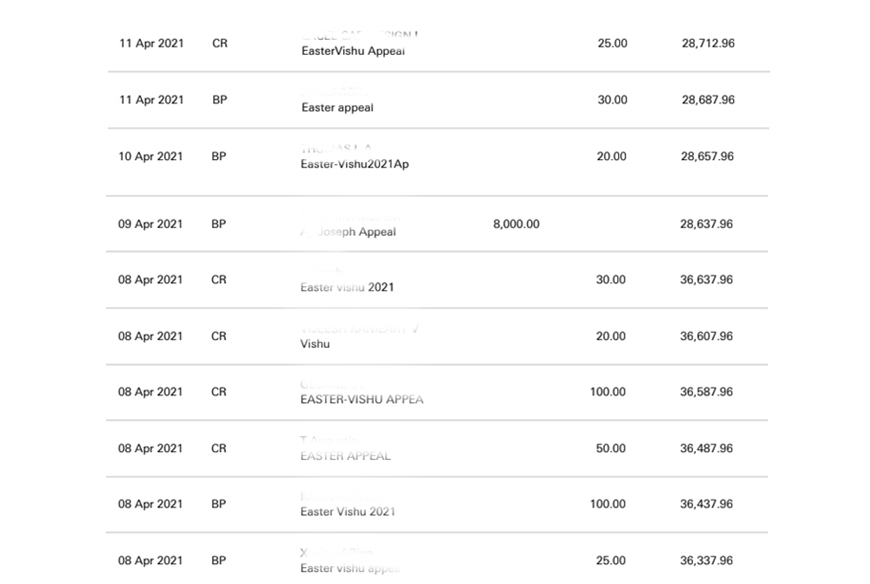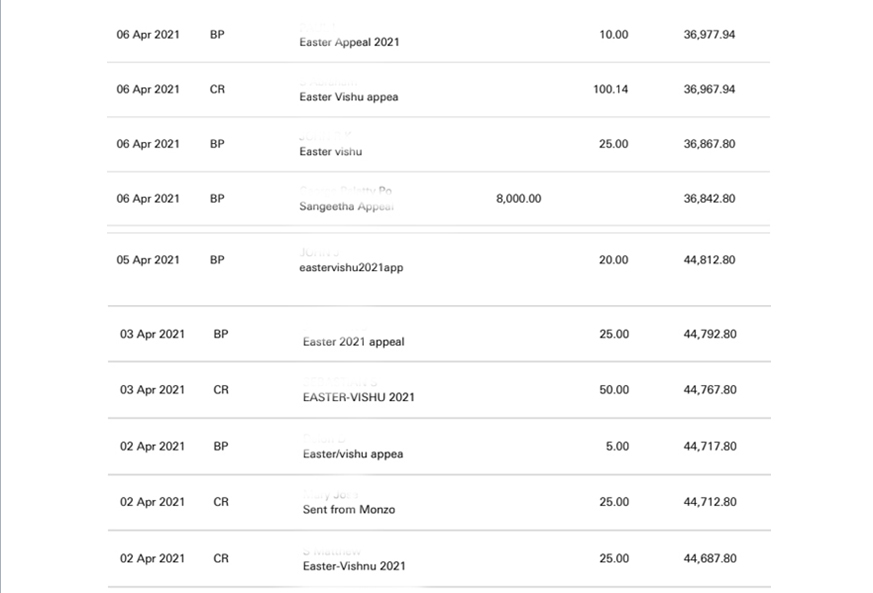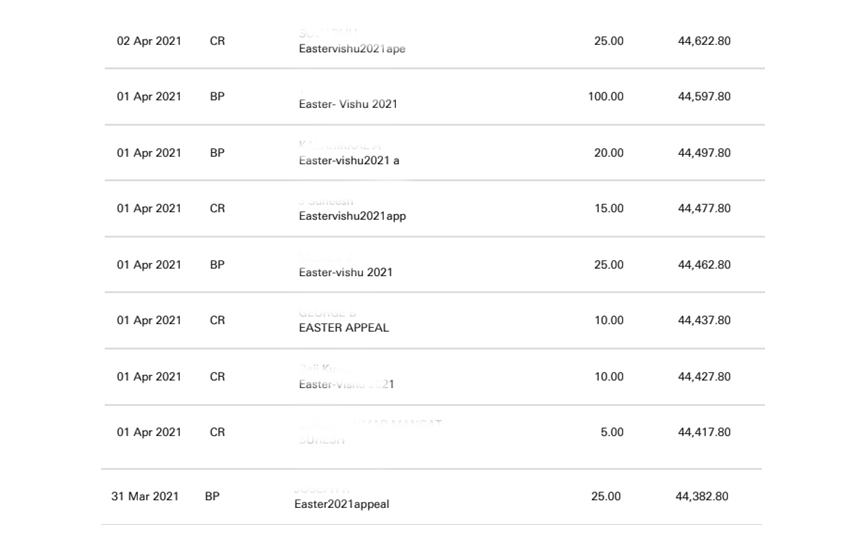 Comments
comments