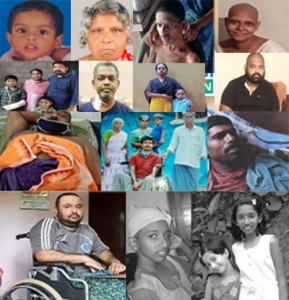 Late last year, we started the British Malayali Charity Foundation Christmas & New Year Appeal 2020 to be the ray of hope for those less fortunate than us. In the previous article, we brought to you a quick look into the lives of some of those individuals we wanted to help, their names; Risa (daughter) and Sanil (father), Suresh, Sinomon, Paulson, Sobin, and Theresa. Click here for that article. In-depth reports of their living situations and troubles were published on the British Malayali website in Malayalam for our readers.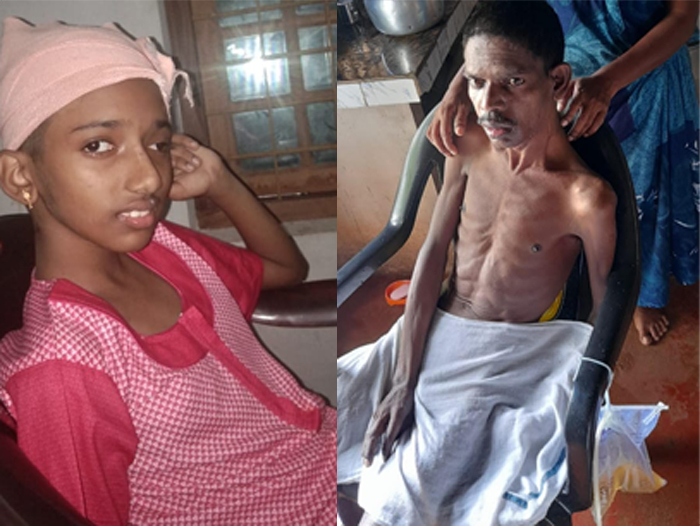 Evlery request for support that arrived in front of us, both directly and through the readers of British Malayali, were helpless lives filled with nothing but tears and despair. Out of those, we brought you those cases that could not be avoided in this Christmas & New Year appeal. Once you remove the appeals to support nursing students with small sums of money, this is the first time British Malayali Charity Foundation has had to take on so many dire cases. We shortlisted a total of 16 cases for the appeal.  The stories of all the individuals that we raised money for were given in detail on the British Malayali website in Malayalam. Today, I want to draw your attention to the lives of the other 10 cases that we were able to support through this Christmas & New Year appeal thanks to your generous support.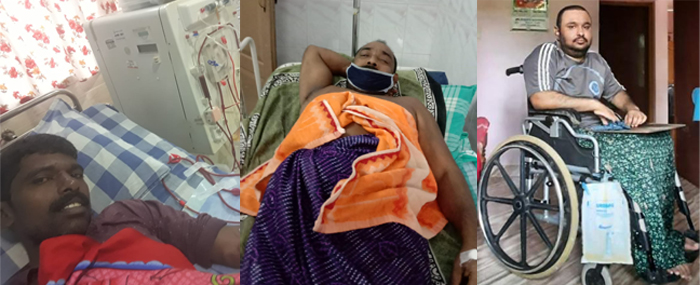 The thirty-nine-pyear-old Sheela Vasu is a native of Ramakkalmedu in the dpistrict of Idukki, Kerala. Suffering from breast cancer, she has Rs. 500,000 of debt, children who are still in school and the closest hospital (Kottayam Medical College) where treatment is available, is 150 km away. This is the dire situation that faces this small family. Due to the current situation, it is dangerous to board public transport as the risk of infection is extremely high. As she is from a poor family, the state government can help with free chemotherapy, but the challenge is getting to the hospital. With no relatives living near the hospital, and not enough money to afford to live in a rented accommodation near the hospital, Sheela has no other choice than commuting to the hospital for her life-saving treatment. She was one of the poorest of the poor that we brought to the readers of British Malayali and when we spoke to the people of Ramakkalmedu, they all replied in one voice that we should help her.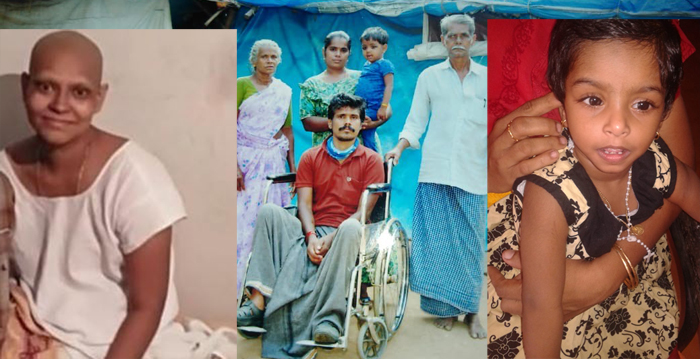 When British Malayali Charity Foundation (BMCF) spoke with Sheela, these were her words, "We're tired of hearing words o consolation. Everyone who sees us always feels like they have to say, 'everything will be fine, and you'll be cured.' But how can this illness be cured without treatment." Sheela wrote to BMCF asking for our help, and thanks to your generous support, we could offer her a small helping hand.

Ratheesh is an unmarried young man from Thodupuzha, who is going through a serious and truly horrific condition. Even those with a strong stomach would find it difficult to watch on as he struggles with day-to-day life. Currently, under treatment from Dr Shaju (Poonjar Government Hospital) and Dr Jose (Chazhikadu Hospital), the only hope for Ratheesh is to undergo plastic surgery. Believing there was Ayurvedic medicine that would cure his condition, he spent approximately Rs. 150,000 at an Ayurvedic hospital in Malarapuram, but his condition remained the same. Both Channel 24 and Janam TV (TV channels in the state of Kerala) reported his story but the total public donation was less than Rs. 30,000. He has been carrying the burden of his family with his father after finishing high school. He got his sister Remya married off in a good way. Unfortunately, it was during this time his father was diagnosed with kidney disease. With Ratheesh's leg disease as well, the family can no longer cope with all the burdens. This hard-working young man is hoping to do plastic surgery so that he can once again look after his family and we were able to make a small contribution thanks to your support.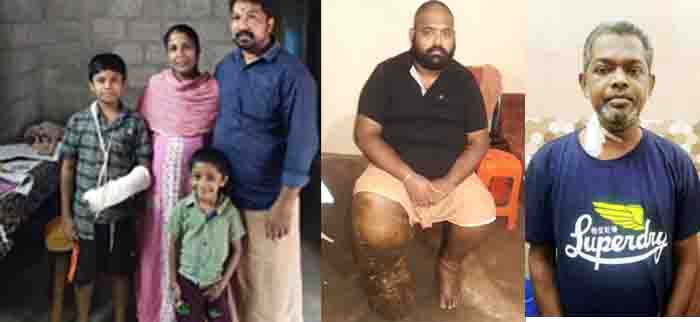 Tragedy on top of tragedy, that is the story of 60-year-old Thankamma from Chamakala in Kottayam district. Along with heart disease, she also suffers from cancer. Fourteen years ago, when her husband died, she was the rock that supported the family, however, her fate began to change for the worse about three years ago. While working as a labourer, she was rushed to hospital after falling unconscious, and it was here they discovered her heart disease. Even though the doctor advised immediate surgery, due to their financial situation, the surgery was called off. Later on, in further examinations, she was diagnosed with cancer in her right breast which had spread to other parts of the body. Even though the surgery was performed free, the equipment and medicines had to be procured from external sources. The medical and family expenses were taken care of by the only son, however, due to COVID-19, the family lost their jobs and stopped receiving treatment. With no income, they had to borrow money from neighbours but with no means of paying off their debt, the family expenses, and medical expenses, Thankamma appealed to BMCF.
Married at the age of 19, widowed at the age of 23, and with two young children and a bedridden mother, Anusha from Venjaramoodu, Trivandrum district has no one to turn to. After her husband committed suicide due to the large debt he had amassed, Anusha now lives with her elderly mother who has lost her vision due to diabetes. She worked as an office assistant at a PSC coaching centre near her home but due to COVID19, she lost her job. Her only income right now is the widow's pension of Rs 1,400 per month, which is not enough for her children, who are now in year 1 and year 4, her sick mother and food. Over the years, Anusha has paid the majority of her husband's debt and was taking care of her family on her own with no-one to help. Her only brother is not on speaking terms with her as he wants her to leave the house that both of them are entitled to. There is currently a police case against him for physical abuse against Anusha. She asked BMCF for help to ensure that her children have enough food to live and be able to carry on their studies in the government school.
Chellappan, a native of Erumeli, is a carpenter who slipped from the roof of a building whilst working. The 53-year-old was bedridden following the accident which left him with fractured ribs and a damaged liver. As a labourer who was on daily wages, the family depended on him to make ends meet, and since the accident, they have no-one to support them. Even after treatment, though he can now barely get up and walk, he can no longer go to work due to the injuries he has sustained. Although he has three daughters and a son, the son never comes home or enquires about anything. He married two of his daughters off, they are also labourers living on daily wages. His only hope is in his daughter who is currently studying the equivalent of A-levels in Kerala. Like rubbing salt into a wound, the COVID19 situation has meant that his wife cannot go to work either. His only relief is the small hut in his two cents of land that he lives in with his family. Even though we cannot make all his troubles go away, thanks to the kind hearts of our readers, we were able to lend a hand to Chellappan.
The life of Mini's mother can only be described as a series of unfortunate events. At the age of 2 her father passed away, in her youth her husband passed away from liver disease, and now her 32-year-old daughter Mini has cancer. Mini's mother approached BMCF, asking for help to fund the chemotherapy and radiation for Mini's cancer treatment. Having lost her husband when Mini was only two year's old, her mother did not remarry. Instead, she worked in kitchens and raised cattle to earn a living and set her life aside for her daughter. Her pride in life is having sent her daughter Mini to do BSc Botany as she was a good student. Mini's mother can also be proud that even though she had to leave the old house she lived in, she brought a seven cents plot of land and built a house with all of her savings near Kozhencherry. This family's only savings is a small one-bedroom house with an aluminium roof, and that too because of the help from the panchayath. After working as a salesgirl, Mini went to the Middle East through an agent, however, to cost of this was a heavy debt. Now in a lot of debt and struggling to find financial support for Mini's treatment due to COVID19, BMCF are glad we could lend a helping hand to Mini.
Jijomon was a labourer living on daily wages before he became bedridden before the age of 33. It is quite clear that treatment is not possible with the wages of a labourer. Now, he is 34-year-old and needs dialysis two or three times a week to fight for his life, but Jijomon's bad luck does not end there. His father has been paralysed for the past 11 years and his mother suffers from kidney disease. Jijomon, a native of Chaganacherry, has been undergoing treatment for both kidneys for the past year. The family hopes to find a donor to carry out a kidney transplant once three months of continuous medication and dialysis is completed, however, their financial circumstances are standing in the way. The only thing in the family's name is 6 cents of land and a small house. This is where Jijomon's paralysed father, mother, his brother, and his brother's family live. The only reason this family are not going hungry is the source of income Jijomon's brother earns from selling lottery tickets.
Biju KJ is a 42-year-old from Thiruvalla who was recently diagnosed with double kidney failure. With the unexpected diagnosis of double kidney failure, the family have no idea how their future will be. Bindu, who is a friend of a friend of Biju, who lives in Stoke-on-Trent who brought this news to BMCF while she was trying to raise the money herself to help out this struggling family.
Elsy John Joseph is a 68-year-old housewife from Alappuzha district who has been living in a sea of misery for a long time. She has been struggling with heart disease for the last 15 years and has high blood pressure and diabetes. Even with all these diseases, she was working as a labourer to ensure she could earn a living. Last year she was unable to work due to her husband's respiratory ailments. The eldest of Elsy's two son's is married and has moved out, however, due to an accident at his workplace, he is not able to work. The youngest son is unmarried and was working as a day labourer to provide for the family, however, due to COVID19 has not been able to go to work.
Suresh is the 45-year-old hard worker from Chaganacherry who has been diagnosed with a dangerous tumour. He underwent surgery to remove the tumour but after the surgery to remove the cancerous tumour, Suresh's entire left side became paralysed and lost the ability to speak. Due to poor health and financial vulnerability, the few sessions of chemotherapy treatments could not be continued. After 19-years of marriage, Suresh and his wife are without children, and now there is a dispute on the land Suresh lives on. After his parent's death, the 6 cents of land that Suresh lives on was thought to belong to him, however, the sisters he worked hard to marry off, along with their husbands are now trying to claim whole ownership of the land. Because of this dispute, they are staying away from Suresh and this family are isolated. Since COVID19, their only income source is a couple of hundred rupees a week that is donated by members of the Vincent de Paul organisation at Chanchadi Church.
All 16 cases that we brought to the readers of British Malayali readers were dire. We want to thank every single one of you for donating to help bring a ray of hope into the lives of these poor people. The total fund for distribution in this Christmas & New Year Appeal is £21,050.00.
| | |
| --- | --- |
| Name of the beneficiary | Amount Granted (£) |
| Risa & Sanil | 3000 |
| Suresh | 2500 |
| Sinomon | 2500 |
| Paulson | 1050 |
| Sobin | 1050 |
| Theresa | 1050 |
| Sheela | 1250 |
| Ratheesh | 1050 |
| Thankamma | 750 |
| Anusha | 750 |
| Chellappan | 750 |
| Mini | 750 |
| Jijomon | 1050 |
| Biju | 1050 |
| Elsy | 1050 |
| Suresh | 1450 |
Comments
comments