All the five beneficiaries received their share of funds from the above appeal issued by the charity in the event of Easter/Vishu celebrations 2018 in a brief ceremony organised in the premises of St. Mary's Church, Manarkadu, Kottayam. Metropolitan of Niranam Diocese (Jacobite Syrian Church)Dr.GeevargheseMorCoorilos, H.E. Thomas MorAlexandrios, Metropolitan of Mumbai Diocese (Jacobite Syrian Church),Fr. Kuriakose, Fr. Mathew Manavathu and BMCF advisory committee members ShajanSkariah, SibyMeprathu& 'British Malayali' manager PraveenaShajiwere also present in the meeting arranged in connection with parish day. Total of £ 7100.00 were given to all five beneficiaries out of which £ 7013 received from supporters and another £ 87.00 added from general fund to the round figure. Major share of the total amount i.e. £ 2000.00 given to a well known writer and socio-cultural reformist  Mr. Nooranadu Mohan, also known as 'UnmaMohan' who led a one man fight through his inland type magazine 'unma' against the social discriminations and disparitiesprevailing  in the society. The fund given to hisliver transplantation surgery as he is admitted into the hospital due tothe  severe condition of liver cirrhosis.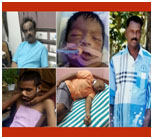 The 17 years old Alex Bobanfrom Adimali in Idukki district also  received an amount of £ 1650.00 as  Alex is suffering from blood cancer and looking for stem cell transplant to recover from his illness. An amount of £ 500.00 was raised by Horsham Malayali Association in U.K, which was earmarked and given to Alex making the total to the tune of  £ 1650.00.
An amount of £ 1150.00 was given to the parents (Ouseppachan and Gopika) of a new born baby from Thuravur in Alappuzha district and the baby has now  been admitted into the neonatal ICU of  a hospital due to a condition called diaphragmatic hernia.  24 years old Mr.Deneesh Mathew', a biomedical engineer from Churuli, Idukki Dist. has also received an amount of £ 1150.00 who  met with a road traffic accident and has been critically ill due to the injuries caused to the brain..The fifth beneficiary i.e. 50 years old Mr. SasidharaPanickar from Attappallam, Idukki received £ 1150.00for the medical treatment of his kidney disease.
Please visit www.britishmalayali.co.uk/news/charity for further details/news in malayalam.
Comments
comments