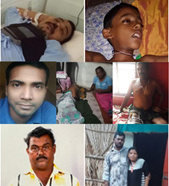 The seasonal 'Onam Appeal 2020', which issued alongside the national festival of Malayalees across the world i.e Onam, fetched a remarkable amount of £ 8,629.75 despite of the ongoing Covid pandemic. When 110 people donated through virginmoney to a total amount of £ 5,962.00, this fund got enhanced with another £ 1,127.75 received from the HMRC towards gift aid. The total fundraising through virginmoney's platform raised to a total of : £ 7,089.75.
Another 27 donors sent their contribution directly into charity's bank a/c with £ 1,540.00 and both virginmoney and bank a/c raised the total to £8,629.75 for the appeal. The virginmoney deducted their commission and handling charges of £ 86.04, which works out only 1.44% of the donations whereas it should have been their standard 4.5% since some of the donors borne these charges themselves separately beyond the donation amount. Hence, there is a saving of £182.25 from deductions which will go to the beneficiaries of the appeal. There is an amount of £ 8,543.71 available after the deductions and the trustees decided to add £ 56.29 from the general fund to make it as a round figure to £ 8,600.00.
It was decided earlier to support 28 years old Martin Selvory, Croydon with an amount of £ 500.00, who is hospitalised now with various medical conditions.
A decision was made earlier after the discussions in the trust to support the remaining six beneficiaries equally with an amount of each £ 1,350.00 with the rest of the total Available fund of £ 8,100.00 as follows:
Eldhose Paul-Muvattupuzha, Anjana Santhosh-Erumely, Jeron Shanty-Kanjirappally, Mohanda A.S-Pala, Majo Thomas-Alappuzha, Joseph P.A-Thuravoor.
One of the seven applicants included into the appeal in the beginning i.e. 24 years old Ashna Jolly, Kothamangalam died unexpectedly and as such, her family had informed the trust that they no longer needed the financial support from the raised funds.
Any donations henceforth received will go to general fund. The arrangements will be doing to hand over the cheques to beneficiaries in Kerala and will inform them accordingly. The trustees thanked all the people who extended their support in making the appeal a grand success.
Please visit www.britishmalayali.co.uk if you wish to read in Malayalam…
Comments
comments