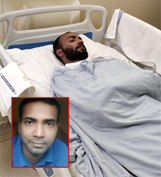 The ongoing Onam Appeal 2020, issued on 20th August to support few struggling families in Kerala, India during the festive season of Onam, will conclude by 15th September 2020. The appeal has so far raised an amount of £ 8,352.25 both including direct receipt in the bank a/c and virginmoney giving link. While an amount of £ 1,340.00 sent in bank a/c by 24 people, another £ 5897.00 donated to virginmoney link to which £ 1,115.25 added as gift aid from HMRC. 103 benevolent people sent their money through virgin money including the charity's anonymous donor 'apapa'with their usual £ 1,111.00.
In the meantime, the family of Late Ashna Jolly from Kothamangalam, one of the 7 beneficiaries in the appeal informed the charity that they no longer require the collected fund since Ashna died unexpectedly while waiting for further treatment in the hospital. However, the trustees have decided to support an application received from one of the UK Malayalees i.e. Martin Selvory from Croydon, who is admitted into hospital due to ill health. The virginmoney link will remain opened for another couple of days before reaching the final figure to support each beneficiaries.
It will take a day or two to receive the exact commission charges from the virginmoney and any donations received after the closing date will go to charity's general fund. The trustees thanked all concerned in raising such a huge amount so far despite of the Covid pandemic.
Please click on the following link if you wish to support..
https://uk.virginmoneygiving.com/britishmalayali
Please visit www.britishmalayali.co.uk/charity if you would like to read in Malayalam..
Comments
comments