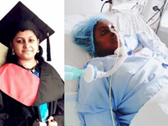 The community in the UK has wholeheartedly supporting British Malayali Charity's ongoing Onam Appeal' by generously donating both virginmoney giving link and directly into the bank account. The virginmoney giving donations get enhanced to another 25% by reclaiming the gift aid from HMRC, which is available only to the registered charities. The trustees have decided to include few more applications into the appeal by making the total to 7 cases in view of the overwhelming support.
Apart from the three cases featured earlier, following are the four applications included after necessary verification and inquiries:

The application of 9 years old Jeron Shanty from Chenappady, Kanjirappally has also included into the appeal due to the severity of the situation. Jeron has been suffering from breathlessness and infection in the stomach since from the age of 1 1/2 years and has been admitted into hospital in regular intervals due to his medical condition.
However, the family is very poor to cope with his continuous hospitalisation and medical treatments since Jeron's dad has no regular jobs. An amount of around Rs. 10,000.00 requires monthly for this little boy's medical treatment.

The story of Majo Thomas, Kainakary, Alappuzha, a band artist, is also not different from above . The ill-fate haunted him in the form of a road traffic accident wherein he was hit by a car while returning from a program. The car rolled over his right femur and as a result, his right thigh was completely damaged with the fracture and broken bones.
Now he is bedridden with catheter and all other supporting equipment, need 24×7 care. He has already undergone 6 surgeries and he is from a very poor family. He requires further surgeries but no funds left with him as he was getting kind donations from his friends and family so far. His two small children studying in 9th & 1st classes of a local school.
The appalling living conditions of Joseph PA, Thuravoor, Cherthala made the trustees to consider into the appeal. 76 years old cancer patient is struggling with his elderly wife without any assistance to cope with their daily life. Their living conditions featured in a video is heart breaking as a poor old woman is begging for help to look after her bedridden ( no bed but lying on the floor) husband as he is unable to speak or even to manage his own primary needs. Their tiny house on the 4cent land is under threat of recovery proceedings from the pledged bank due to the miss out of loan instalments.

A 24 year old young nurse, Ashna Jolly, kothamangalam, Ernakulam is suffering from throat cancer and a rare condition of blood cancer called Fanconi anemia, which mainly affects the bone marrow. The family says the treatment needs a daily expense of Rs. 1.5 lakhs and their overall financial situation is very poor with the father and brothers are fish vendors. Ashna is now under treatment at Aster Medicity, Kochi. They are now looking for around Rs. 50.00 lakhs for bone marrow transplantation which, the believe, will bring back Ashna's life into normalcy.
The other cases already featured into this appeal were Anjana Santhosh- Mundakkayam, Mohandas-Pala, Eldho-Muvattupuzha.
We request you to please support the above seven most deserving cases by clicking the following virginmoney giving link and your donations will get enhanced to another £ 0.25 for every £1.00 you donate if you give consent to reclaim as per the eligibility of your fund.
https://uk.virginmoneygiving.com/britishmalayali
Please visit www.britishmalayali.co.uk/charity if you would like to read in Malayalam.
Comments
comments